Radish asparagus ships on pineapple peach cream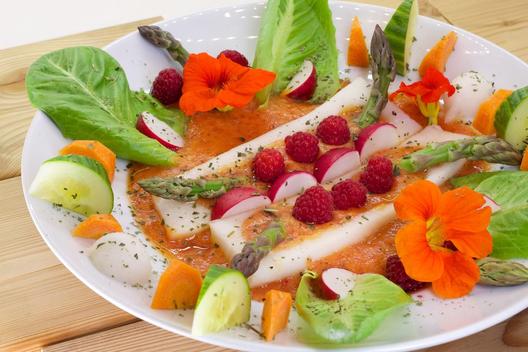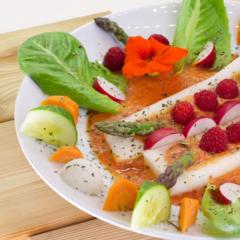 Today I made myself small ships of daikon radish with asparagus tips, indian cress blossoms, radishes, raspberries, cucumber, romaine lettuce, carrot and a cream of one pineapple and more than two pounds of peaches.
If not stated otherwise then the amount of ingredients is for one meal, but this could still mean more than one serving of the pictured dish.
All fruits and vegetables have to be ripe. That's of the uttermost importance, only this way are they tasting yummy, are having all their essential nutrients in them and can be digested optimally by our body.
Preparation
Cream
Put all ingredients for the cream in a high speed blender, like the Blendtec
Put some softer fruits in the blender first (like bananas) so it has something to "chew" on
Cut harder and large fruits into pieces and put them into the blender with some soft fruits
Blend ingredients at high speed
Blend longer if you want your cream warmer
Fruits and veggies directory
Checkout the fruits and veggie directory to see how to ripen your produce or how to know when stuff is ripe.
hmm himmlisch!
- Nicole S.
Dankeschön, Nicole! ;)
- Patrizio B.
Wieder etwas zum Nachmachen :) habe nur keine Kapuzinerkresseblüten ;(
- Susanna S.
Ich habe meine schon sehr früh im Gewächshaus gezogen und dann umgepflanzt. ;) <3
- Patrizio B.
Thank you. Having fun with my new spiralizer. This morning I did a yellow squash with the curly que setting, so cute. It's i...
- Barbara N.
I love to hear that! <3
- Patrizio B.
Zucchini & yellow squash cooked have never tasted good to me. I've always liked them raw on a veggie tray but they get too sli...
- Barbara N.
You are perfectly right! <3
- Patrizio B.
Hi Patrizio Bekerle you open my appetite more for raw food with all your colourful dishes.i sure will be looking out daily for...
- Kerry K.
Thank you, Kerry! ;)
- Patrizio B.
Hi Patrizio do you have a list of edible flowers and we're I can got seeds.love the look.Thanks P
- Kerry K.
I'm sorry, I don't have a compiled list, I merely used what I have in my garden. I got the seeds from a local garden supply store.
- Patrizio B.
But this year I have my own indian cress seeds from the flowers themselves! ;) <3
- Patrizio B.
I thought fruits and veg do not mix well in the stomach?
- Eugene C.
Almost no veggies in there ;)
- Patrizio B.
why don't they mix well?
- Lois P.
too complex for your stomach to digest together... the more simple a meal the better...
- Patrizio B.
I only have problems if they are too starchy...
- Patrizio B.
The plate is inviting! It looks great!
- Victo B.
I will have to plant some Indian Cress blossoms!!
- Yolanda G.
:* <3 <3 <3
- Patrizio B.
You should be a Raw Food Chef and open a cafe or restaurant. Beautiful presentations on all the dishes you made.
- Erin V.
Thank you for your energy, Erin! <3
- Patrizio B.
You're welcome :)
- Erin V.
How do you make your creams? Are they just blended fruit and veggies? Do you also eat nuts? Or just fruits and veggies..
- Kay C.
So appealing!
- Deborah S.
Most of the time only fruits and veggies, Kay
- Patrizio B.
Thank you, Deborah!
- Patrizio B.
my goodness this looks devine <3
- Anne R.
Looks so good!!
- Meri R.
Thank you, Meri! ;)
- Patrizio B.
it is almost too pretty to eat.
- Analida V.
Thank you for your kind words, Analida!
- Patrizio B.
But why not noodles from dikon? This is also soooperlike bro...
- Swati K.
I can't make everything at the same day. :)
- Patrizio B.
I just want you to be my private chef. ♡
- Dawn M.
*giggle* ;)
- Patrizio B.
simply perfect ! :-)
- Annette C.