Strawberry radish "Udon" noodles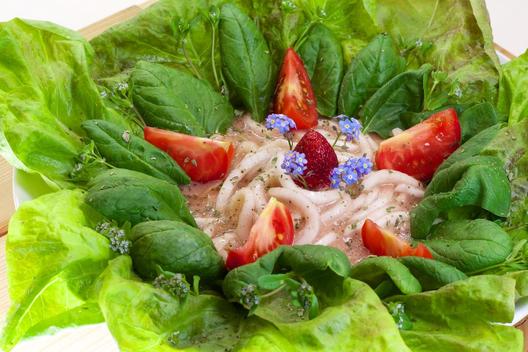 This evening I had thick "Udon" style noodles made of daikon radish with spinach, green lettuce and lamb's lettuce from my garden, some tomatoes, forget-me-nots, a strawberry and a cream of nine bananas and a small box of strawberries.

If not stated otherwise then the amount of ingredients is for one meal, but this could still mean more than one serving of the pictured dish.
All fruits and vegetables have to be ripe. That's of the uttermost importance, only this way are they tasting yummy, are having all their essential nutrients in them and can be digested optimally by our body.
Preparation
Noodles
Get a Lurch Spirali or an other spirulizer.
Use the blade for normal or thick noodles
Put up the summer or winter squash, daikon radish or similar and cut out the noodles
If you use hard fruits or veggies, like winter squash, you may turn the fruit by hand, not by crank
Alternatively you can also use the GEFU Spirelli Spiral Cutter.
Cream
Put all ingredients for the cream in a high speed blender, like the Blendtec
Put some softer fruits in the blender first (like bananas) so it has something to "chew" on
Cut harder and large fruits into pieces and put them into the blender with some soft fruits
Blend ingredients at high speed
Blend longer if you want your cream warmer
Fruits and veggies directory
Checkout the fruits and veggie directory to see how to ripen your produce or how to know when stuff is ripe.
raw is always good stuff :)
- Mic T.
What a great idea to make udon with diakon radish!
- Patty F.
Its look like a deep well of happiness which is more than healthy tooooo:-)
- Swati K.
Double WOW!
- Antonella C.
Many thanks for all your kind words, my dears! ❤️
- Patrizio B.
.. you got this kiddo.
- Anthony V.
Gorgeous, as are all your postings.
- Barbara N.
Is recipe on that link? Am I missing it?
- Rosie S.
Thank you, Barbara! ❤️
- Patrizio B.
Instructions for the cream are on the webpage, yes.
- Patrizio B.
A beautiful presentation
- Irina I.
Thank you, Irina!
- Patrizio B.
too pretty to eat :)
- Krystaliss Q.
Thanks, Victo ;)
- Patrizio B.
That looks inspiring, love it God bless.
- Milton K.
Looks delicious and lovely, the forget-me-nots are a nice touch.
- DonnaMarie I.
Thanks a lot, my dear ones! ☀️❤️
- Patrizio B.
so beautifully displayed
- Iris Z.
Thank you, Iris ;)
- Patrizio B.
I am very interested in this 'cream'! What is the consistency like? How else would you recommend using it? Mmm!!
- Julia W.
It's a light cream, strawberries have a lot of water in it... You can use it with every green or just have it as a smoothie! <3
- Patrizio B.
Oh okay! Thank you :D
- Julia W.
Good morng sir aapki recape baut colourfull h.......
- Mamta G.
Cool for get me nots are edibles... Yay. A definite must try for me. :)
- Rickina B.
Ooh and it would be great for my foodscaping too. :)
- Rickina B.
I was just going to say the same, Rickina! Had no idea they were edible. We used to have them in the garden.
- Kelli L.
wonderful! <3
- Patrizio B.
I always look forward to your postings!
- Bobbi A.
It makes me happy to hear that, Bobbi!
- Patrizio B.
Aw, it's a huggybowl!
- Frances M.
Lisa Wyman Gleason, look, the bowl is hugging its contents! It looks so cosy in there.
- Frances M.
Very huggy! Patrizio do you grow most of your veggies? I am hopeful things will take off this year, but Florida weather can be...
- Lisa W.
Right now I'm able to grow again! <3
- Patrizio B.
so frisch und schön!
- Sara P.