Banana - strawberry on leafy greens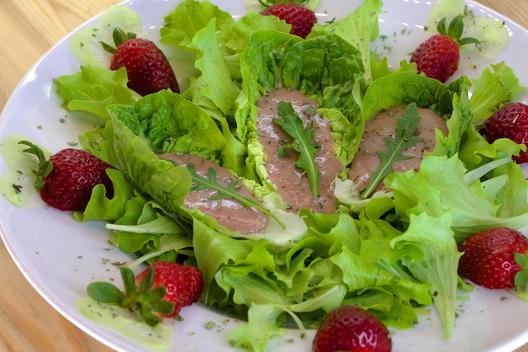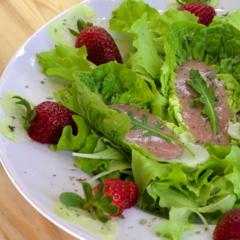 Today I made myself a cream of nine bananas and a pound strawberries and bedded it on baby - lettuce leaves and curled lettuce, together with strawberries, arugula and cucumber hearts. <3
If not stated otherwise then the amount of ingredients is for one meal, but this could still mean more than one serving of the pictured dish.
All fruits and vegetables have to be ripe. That's of the uttermost importance, only this way are they tasting yummy, are having all their essential nutrients in them and can be digested optimally by our body.
Preparation
Cream
Put all ingredients for the cream in a high speed blender, like the Blendtec
Put some softer fruits in the blender first (like bananas) so it has something to "chew" on
Cut harder and large fruits into pieces and put them into the blender with some soft fruits
Blend ingredients at high speed
Blend longer if you want your cream warmer
Fruits and veggies directory
Checkout the fruits and veggie directory to see how to ripen your produce or how to know when stuff is ripe.
I am starting to get really hungry!
- Laetitia D.
I know that feeling. :) <3
- Patrizio B.
(Zilver) lening tussen individuen ernstig bieden Lady en gentleman, bied ik lening van 5000 € tot 2.000.000 € aan iedereen kun...
- Albertus J.
Mmm, that must have been good :-)!!
- Tijana C.
Time for lunch :)
- Michael J.
Yeeeeees! <3 :)
- Patrizio B.
creamed bananas again huh? :P
- Jacqui C.
Looks delicious and oh so healthy!
- Polly M.
Why's that Ty Doll :)
- Polly M.
Those strawberries look so tasty! Thank you for putting up some raw inspiration every day, keeps me remembering what I really w...
- Josephine C.
Oh it was, Polly! <3 :)
- Patrizio B.
Thank you for your kind words, Josephine! I do my best! <3
- Patrizio B.
That looks messy... how did you eat it?
- Kelly H.
With a fork.
- Patrizio B.
Love how you come up with these incredible varieties from simple fresh ingredients.
- Abhaya I.
Thank you, Abhaya Iyer! <3
- Patrizio B.