Banana - parsley - boats on purple cabbage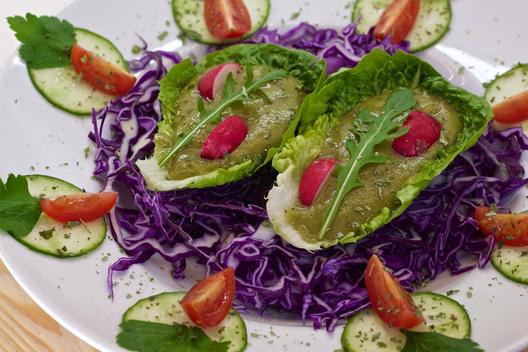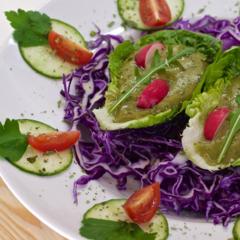 Today I made myself baby - lettuce - boats with arugula, radishes, tomatoes, cucumber and cream of eight bananas, two medium - sized apples and a hand full of parsley on purple cabbage.
If not stated otherwise then the amount of ingredients is for one meal, but this could still mean more than one serving of the pictured dish.
All fruits and vegetables have to be ripe. That's of the uttermost importance, only this way are they tasting yummy, are having all their essential nutrients in them and can be digested optimally by our body.
Preparation
Cream
Put all ingredients for the cream in a high speed blender, like the Blendtec
Put some softer fruits in the blender first (like bananas) so it has something to "chew" on
Cut harder and large fruits into pieces and put them into the blender with some soft fruits
Blend ingredients at high speed
Blend longer if you want your cream warmer
Fruits and veggies directory
Checkout the fruits and veggie directory to see how to ripen your produce or how to know when stuff is ripe.
tolle Farben :)
- Dani v.
Danke, Dani! ;) <3
- Patrizio B.
Yes, indeed! <3
- Patrizio B.
That is very pretty!
- Teri J.
So appetizing and delicious got to love it and looks to good to eat too. God bless.
- Milton K.
https://www.facebook.com/groups/healthy.vegan.recipes/
- Afua A.
Thank you, my dears! <3
- Patrizio B.
Wow! Look at the colors pop!
- Antoinette M.
Thank you, Antoinette! <3
- Patrizio B.
Colorfully delicious
- David N.
very pretty! and yummy i'm sure :)
- Kathy C.
Do you take your own photos?
- Stephanie R.
Thank you, my dears! <3 Yes, I do, Stephanie! ;)
- Patrizio B.
Beautiful photography! Art on a plate! Gorgeous!
- Stephanie R.
Thanks a lot, Stephanie! ❤️☀️
- Patrizio B.
There's the purple! <3 <3 <3
- Jordan B.
thank you, Carol!
- Patrizio B.
Thanks, Jordan!
- Patrizio B.
Oh yes! :) <3
- Patrizio B.
and those colours!
- Charlie N.
amazing i wanna make this!!! <3
- Jaspin I.
Thank you, Jaspin! <3
- Patrizio B.
if you don't already run a restaurant, you should! your presentations are always amazing <3
- Jessy V.
Thank you, Jessy! <3 The masses are not fit for such dishes yet. :)
- Patrizio B.
I think some places would be. In the town that I live in there is a raw/vegan/GF restaurant!
- Jessy V.
That's great!
- Patrizio B.
it wont look like that when its coming out thats for sure
- Guru W.
DANG YOU ARE TALENTED!!! LOVE IT!
- Princess V.
Thank you Princess Veevee. I merely love fruits, and veggies! ;) <3
- Patrizio B.
Me too... but my stuff never looks that good so I just toss it in my vitamixer and drink it. LOL!
- Princess V.
Usually I do it the same way, but I discovered that this doesn't look fancy on photos. :D
- Patrizio B.
The thing I love about these dishes....not only well executed in design and creativity but the mixture of vegetables and fruits.
- Ron P.
Great you like them, Ron! There are people who are irritated by frutis and veggies together. :) (even if most of the veggies ar...
- Patrizio B.
Keep it up. I call it a work of art on a plate. No worries here.
- Ron P.
How interesting!! :)
- Olivia S.
Oh, Olivia Sarratt McCarthy , all his plates are. Truly.
- Ron P.
I like the word "interesting" :) I use it a lot. :D
- Patrizio B.
I gasped when I saw this. I have a Blentec <3 so I must try some of your "creams".
- Laura S.
When Olivia Sarratt McCarthy says "interesting" she means it.
- Laura S.
Thank you, Don!
- Patrizio B.
very healthy dish.......
- Mamta G.
Oh cool I would love to try
- Cathrina Y.
Very easy! <3
- Patrizio B.
Hmmmmm ok will try it
- Cathrina Y.
Wow!!! It looks so...........colourfullllllll!!!
- Swati K.
Thank you, Swati! <3
- Patrizio B.
Good evening Mr. and Mrs. This message is intended for individuals , the poor, or those who are in need of a particular loan to...
- Lucrex E.