Cucumber - carrot - noodles with orange - date - sauce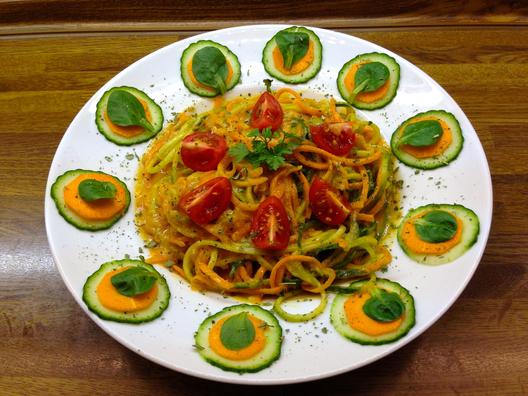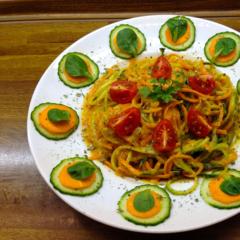 Tonight I had noodles made of one cucumber and three big carrots with lamb's lettuce, a bit of fresh parsley, some small tomatoes and a delicious sauce made of five oranges, 13 dates, two stalks of celery and one sweet red pepper.
If not stated otherwise then the amount of ingredients is for one meal, but this could still mean more than one serving of the pictured dish.
All fruits and vegetables have to be ripe. That's of the uttermost importance, only this way are they tasting yummy, are having all their essential nutrients in them and can be digested optimally by our body.
Preparation
Noodles
Get a Lurch Spirali or an other spirulizer.
Use the blade for normal or thick noodles
Put up the summer or winter squash, daikon radish or similar and cut out the noodles
If you use hard fruits or veggies, like winter squash, you may turn the fruit by hand, not by crank
Alternatively you can also use the GEFU Spirelli Spiral Cutter.
Sauce
Put all ingredients for the sauce in a high speed blender, like the Blendtec
Put some softer fruits in the blender first so it has something to "chew" on
Maybe cut harder produce into pieces and put them into the blender with some soft stuff
Avocado, nuts or seeds are optional
Blend ingredients at high speed
Fruits and veggies directory
Checkout the fruits and veggie directory to see how to ripen your produce or how to know when stuff is ripe.
Cucumber - carrot - noodles with orange - date - sauce
Rating:

0

/5 (

0

votes cast)
Thank you for rating!
You have already rated this page, you can only rate it once!
Your rating has been changed, thanks for rating!
Log in or create a user account to rate this page.

schaut ur-lecker aus!
- Olivia K.
Dankeschön, Olivia. Ich liebe einfach Früchte und Gemüse. :)
- Patrizio B.
wow your dishes look amazing!
- Patti W.
i mean the food on the dishes lol not the dishes!
- Patti W.
Hihihi, thank you, Patti! <3
- Patrizio B.
yes, you always post the yummiest looking food!! And always displayed beautifully!
- Ashley H.
Im always posting recipes and DIY,, feel free to follow me!
- April A.
thank you Ashley and April! <3
- Patrizio B.
are you "uncooking" too, April? ;)
- Patrizio B.
Now this is beauty at its best
- Rain T.
colorful, inviting and healthy meal!
- Mere R.
Thank you, Mere! <3
- Patrizio B.
You're plates are always a work of art! :)
- Christine L.
thank you for your kind words, Christine! <3
- Patrizio B.
I've heard we should always eat our fruit on an empty stomach. Because of digestion. I learned this through Kimberly Snyder, CN...
- Angie C.
Perfectly true! And this goes for everything that you eat. The stomach works best when only digesting _one_ thing. ;)
- Patrizio B.
Something about the fruit though :)
- Angie C.
r u a cook? if not u should be :)
- Andreia R.
Fruits are just quickly digested, Angie. So they need a quick "passage", which they don't get if the "road" is blocked by food...
- Patrizio B.
Thank you, Andreia. <3 So far, I'm not ;)
- Patrizio B.
Yes, from my understanding, fruit only takes 20 to 30 min. to digest, which then if other food is eaten right after that, on to...
- Angie C.
It takes a bit longer than 20-30min to fully digest them, but you get the idea. ;) Eating harder to digest food _after_ fruits...
- Patrizio B.
Where can I find the machine to make the noodles. I have wanted to try zucchini noodles but don't even know what the machine is...
- Melody L.
I have described and linked it on the page in my post, Melody. ;) It's a spirulizer. http://www.amazon.com/gp/product/B006THC7...
- Patrizio B.
Oh ok. Great! Thanks. :). This looks awesome. My hubby is trying to go mostly raw and our girls and I are tasting along with h...
- Melody L.
That's great to hear! A spirulizer is an awesome tool! It would surely pep up your cuisine!
- Patrizio B.
Hmm, no it only takes 20-30 min. for fruit to digest. That comes from CN, Kimberly Snyder. When we eat fruit on top of other fo...
- Angie C.
eating mono is best, that's true
- Patrizio B.
im going to a vegan potluck in a few days, i want to take cucumber noodles with some salad veggies and a sauce/dressing, any re...
- Crystal W.
sounds great! people will love it! lately I'm having a lot of radish noodles :)
- Patrizio B.
Thanks! Yum havnt tried radish noodles yet! Will def try :)
- Crystal W.
very crunchy <3
- Patrizio B.
We r missing ur RAW Dishes.. :)
- Swati K.
I got too lazy. :)
- Patrizio B.
Raw can't b lazy Patrizio Bekerle ;)
- Swati K.
It just takes too much time from preparation to post-production. :)
- Patrizio B.
Nice decorative cucumber canapes!
- Charlie J.
Thank you, Charlie! ;)
- Patrizio B.
thank you, my dears! <3
- Patrizio B.
I love your recipes!!! got them on VIDEO? :)
- Evita R.
not yet, Evita :/
- Patrizio B.
Are your recipes on Clickbank.com?
- Evita R.
That's an interesting service, thank you. What's your experience with it?
- Patrizio B.
What is your email? Will send you something cool
- Evita R.
PERFECTION 100%,SAT NAM
- Antonis A.
thank you, Antonis! Sat nam! <3
- Patrizio B.
Wow!! Too pretty to eat!(well for a minute or so anyways-to tasty to not inhale!!lol)
- Teri M.
You made it yourself or paid someone to make it for you? ;-)
- Liana C.
Haha, true, Stamper Lynn! <3
- Patrizio B.
Me for myself, Liana :)
- Patrizio B.
Wow Patrizio, nice cooking skills, we need more skilled males like you around hehe :)
- Liana C.
haha, thank you Liana :D I do my best :)
- Patrizio B.
So beatiful, lovely colours and textures. You're so creative.
- Rosie P.
Can you make me some please? Thank you :)
- Iona M.
I love your presentations.
- Dustin C.
You are truly an artist!
- Heather D.
Thank you, my dears! <3 Sadly it's gone very fast, Iona. <3 Like a sand mandala....
- Patrizio B.
I believe that's what they call plating perfection. Looks soooooooooo good!
- Kristen M.
I just looooove fruits and veggies! Thank you my dear Pipa Eve, Kat and Kristen! <3
- Patrizio B.
looks sooo pretty! and yummy
- Izabela E.
thank you Izabela!
- Patrizio B.
Who can resist this? :)
- Kelly K.
looks awesome
- Michelle C.
thanks a lot, Michelle! <3
- Patrizio B.
look's very good :-)
- Veronica F.
You're an artist Patrizio :)
- Lilia K.
I bow to you, Lilia Kar! <3
- Patrizio B.
Looks amazing. Thanks for sharing!
- Paula B.
thank you, Paula!
- Patrizio B.
Your presentation is amazing! Can't wait to try!
- Debbie G.
Wow, I want to eat the photo!!!
- Chantel M.
Photos don't taste like a lot. :)
- Patrizio B.
I know the real thing would be much better!
- Chantel M.
It's all about love for fruits and veggies and room for experiments. :) <3
- Patrizio B.
how do you make your dressing in a blender
- Josie R.
like that: http://www.rawhealthandhappiness.com/Raw-Food-Dishes/Cucumber-carrot-noodles-with-orange-date-sauce
- Patrizio B.