Radish - tomato - "Lasagna" with orange - date - sauce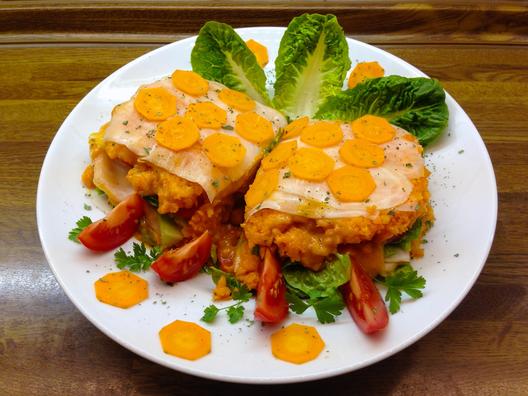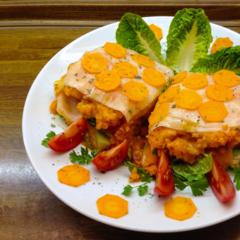 Today I made myself a wonderful "Lasagna" with layers of daikon radish, shredded baby lettuce and carrots, slices of tomatoes and a sauce of five oranges, 14 dates, two sweet red peppers for more color and four stalks of celery. I had some fresh parsley with it.
If not stated otherwise then the amount of ingredients is for one meal, but this could still mean more than one serving of the pictured dish.
All fruits and vegetables have to be ripe. That's of the uttermost importance, only this way are they tasting yummy, are having all their essential nutrients in them and can be digested optimally by our body.
Preparation
"Lasagna"
Slice your ingredients for the layers (like daikon radish, zucchini, lettuce or tomatoes) with your Mandoline - Slicer or a sharp knife
Use your high speed blender, like the Blendtec, to prepare a creamy sauce with the rest of the ingredients (like the fruits and red peppers)
spread a layer of ingredients in a rectangular bowl or deep dish
spread an other layer
spread a layer of sauce
add a layer of an other ingredient
do this until the bowl is full
pull the bowl over on a plate
"Rice" or finely chopped veggies
Cut celeriac or pumpkin in small pieces
Put the pieces in a blender with speed control or "chop" setting (like the Blendtec)
Chop fruits or veggies to "rice"
Best do this before making the sauce, so you don't have the sauce in your blender ;)
Sauce
Put all ingredients for the sauce in a high speed blender, like the Blendtec
Put some softer fruits in the blender first so it has something to "chew" on
Maybe cut harder produce into pieces and put them into the blender with some soft stuff
Avocado, nuts or seeds are optional
Blend ingredients at high speed
Fruits and veggies directory
Checkout the fruits and veggie directory to see how to ripen your produce or how to know when stuff is ripe.
Radish - tomato - "Lasagna" with orange - date - sauce
Rating:

0

/5 (

0

votes cast)
Thank you for rating!
You have already rated this page, you can only rate it once!
Your rating has been changed, thanks for rating!
Log in or create a user account to rate this page.

I saw one of your recipes that used pumpkin noodles. How did you spiralize them? Are you thinking of doing any raw food cooking...
- Lemon T.
now this looks like something I can sink my "teeth" in... yummy!
- Marie R.
Lemon Tree try this link form Patrizio http://www.rawhealthandhappiness.com/Raw-Food-Dishes/Zucchini-noodles-with-pieces-of-car...
- Marie R.
hahaha, awesome, Marie! now I don't even need to answer questions! I like! thank you! :* :)
- Patrizio B.
yes, Lemon Tree, just search the webpage. ;) you also can make yummy noodles out of Kohlrabi! <3
- Patrizio B.
Wow, orange paradise! <3 No, I just peeled them.
- Patrizio B.
You are great! Just keep exploring! ❤️☀️
- Patrizio B.
Ooh and ahh! Probably yum, too
- Delilah J.
if you were a chick, Id marry you!
- Mike S.
hahaha, thank you my dears! :) <3
- Patrizio B.
This looks very interesting. I may have to make this one for myself
- Genghis K.
Your life is open for experiments. :)
- Patrizio B.
Out of all the vegan groups im in your pics is whats motiving me
- Josie R.
Thank you for your kind words, Josie! You are making my evening! <3
- Patrizio B.
love ur recepies pat,thanks<3
- Rosy D.
Thank you, Rosy! <3
- Patrizio B.
:) ur so welcome :)
- Rosy D.
may you always be happy, healthy and full of joy!
- Patrizio B.
sure hope so pat!
- Rosy D.