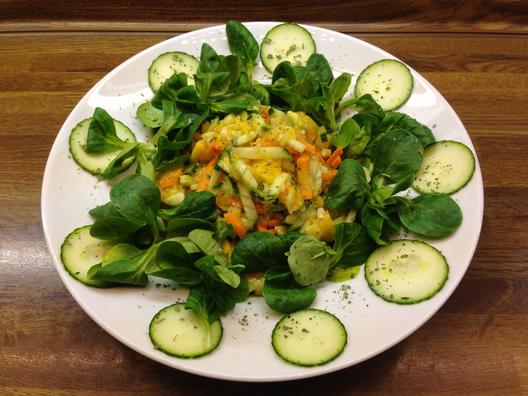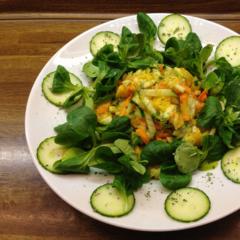 I just made myself a salad with two diced mangoes, three quarters of a diced cucumber, the juice of one lemon, two diced carrots, lamb's lettuce, some finely chopped celeriac and optionally one diced avocado half for more creaminess.
If not stated otherwise then the amount of ingredients is for one meal, but this could still mean more than one serving of the pictured dish.
All fruits and vegetables have to be ripe. That's of the uttermost importance, only this way are they tasting yummy, are having all their essential nutrients in them and can be digested optimally by our body.
Preparation
"Rice" or finely chopped veggies
Cut celeriac or pumpkin in small pieces
Put the pieces in a blender with speed control or "chop" setting (like the Blendtec)
Chop fruits or veggies to "rice"
Best do this before making the sauce, so you don't have the sauce in your blender ;)
Dicing of fruits or veggies
Put the straight blade on your Mandoline - Slicer
Activate the vertical blades and set an offset halve the length of the vertical blades
Cut fruit (like zucchini or cucumber) or veggie once
Turn fruit or veggie by 90 degrees
Cut again to get dices
Turn and cut
Repeat
Stop before you cut your fingers :)
Fruits and veggies directory
Checkout the fruits and veggie directory to see how to ripen your produce or how to know when stuff is ripe.
It was delicious! <3
- Patrizio B.
I really want some please hehe looks delicious!! ☆
- Starr E.
It was ultra - yummy! <3
- Patrizio B.
Food art. Gorgeous. :)
- Sharna-Lee S.
thank you, my dears! <3
- Patrizio B.