Avocado - tomato - cucumber - snack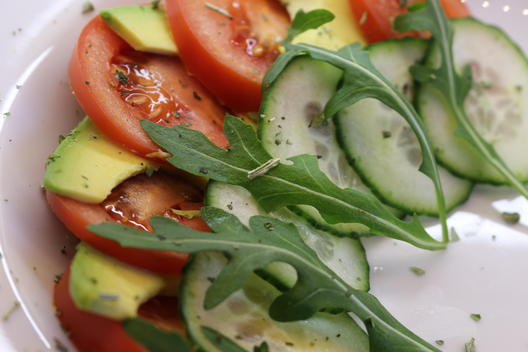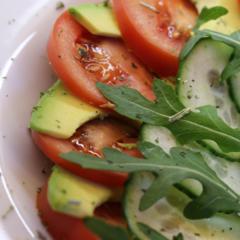 Just a simple snack this time. Half an avocado, a piece of cucumber, one tomato, everything sliced up, some arugula added. You may also want to add some lemon juice.
If not stated otherwise then the amount of ingredients is for one meal, but this could still mean more than one serving of the pictured dish.
All fruits and vegetables have to be ripe. That's of the uttermost importance, only this way are they tasting yummy, are having all their essential nutrients in them and can be digested optimally by our body.
Fruits and veggies directory
Checkout the fruits and veggie directory to see how to ripen your produce or how to know when stuff is ripe.
looks so pretty and an amazing snack :)
- Kimberly P.
Thank you, Kimberly! <3 ;)
- Patrizio B.
No oil, Evangelia. ;)
- Patrizio B.
Thanks for sharing .
- Mariam G.
Through Christ's redeeming work the government of God stands justified. The Omnipotent One is made known as the God of love. Sa...
- Mariam G.
Wow, love this!
- Lauri B.
If I was a millionaire I would if you didn't mind have you as my chef for at least one half of the year when I'm in thatt type...
- Chris M.
Haha, one heck of a live. :D
- Patrizio B.
Sexy! I love arugula!! Thanks for all the great photos and inspiration! <3
- Brittany S.
The pleasure was all mine! :) <3
- Patrizio B.
lemon juice makes a great dressing :)
- Wrexham V.
<3 <3 <3 :*
- Patrizio B.
Hv u just eat it in raw form? Or u add any origano or salt n paper?
- Swati K.
No, nothing :)
- Patrizio B.
This looks like a tasty snack!
- Chantel M.
It was ;) <3
- Patrizio B.