Mango - arugula - "Lasagna"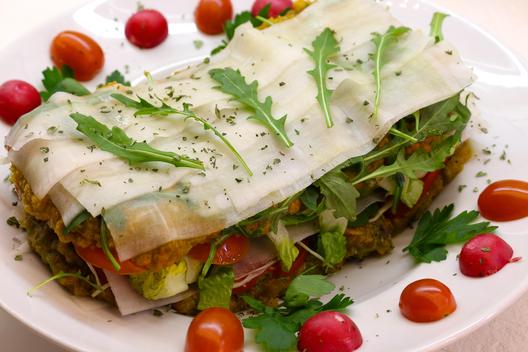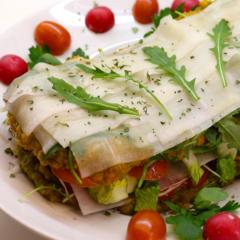 Today I had a "Lasagna" with layers of daikon radish, three shredded carrots, cut lettuce, fresh parsley, arugula, slices of tomatoes, sliced radishes, cut white cabbage and a sweet sauce of three mangoes, three stalks of celery and a hand full of fresh parsley. <3
If not stated otherwise then the amount of ingredients is for one meal, but this could still mean more than one serving of the pictured dish.
All fruits and vegetables have to be ripe. That's of the uttermost importance, only this way are they tasting yummy, are having all their essential nutrients in them and can be digested optimally by our body.
Preparation
"Lasagna"
Slice your ingredients for the layers (like daikon radish, zucchini, lettuce or tomatoes) with your Mandoline - Slicer or a sharp knife
Use your high speed blender, like the Blendtec, to prepare a creamy sauce with the rest of the ingredients (like the fruits and red peppers)
spread a layer of ingredients in a rectangular bowl or deep dish
spread an other layer
spread a layer of sauce
add a layer of an other ingredient
do this until the bowl is full
pull the bowl over on a plate
"Rice" or finely chopped veggies
Cut celeriac or pumpkin in small pieces
Put the pieces in a blender with speed control or "chop" setting (like the Blendtec)
Chop fruits or veggies to "rice"
Best do this before making the sauce, so you don't have the sauce in your blender ;)
Sauce
Put all ingredients for the sauce in a high speed blender, like the Blendtec
Put some softer fruits in the blender first so it has something to "chew" on
Maybe cut harder produce into pieces and put them into the blender with some soft stuff
Avocado, nuts or seeds are optional
Blend ingredients at high speed
Fruits and veggies directory
Checkout the fruits and veggie directory to see how to ripen your produce or how to know when stuff is ripe.
Superlecker. Ich liebe deinen Blog!!
- Nati L.
Mmmmmmmmm!!!!!!!!! Yummy!!!!!
- Evangelia S.
Vielen Dank, Nati Lein und Evangelia! <3
- Patrizio B.
SAT NAM PATRIZIO
- Antonis A.
Food porn at its best
- Eric J.
Yeah! <3 :D
- Patrizio B.
What do daikon radishes taste like? Are they hot and spicy like the little red ones? How do you slice the daikon radishes so th...
- Donna P.
How do you slice the daikon radish so thinly?
- Andrea M.
I like the radishes to be not too hot. :) I use this tool on the daikons: http://www.rawhealthandhappiness.com/Tools/Mandoline-...
- Patrizio B.
I want that in my mouth....N O W!!! :-P
- Dawn M.
Dude, you are an artist. I really enjoy seeing your pictures of grub! Are you a chef by trade or a food lover?
- Kevin M.
<3 :) Dawn Marie
- Patrizio B.
Thank you, Kevin. <3 ;) The latter. :)
- Patrizio B.
One thing you're certainly not though Patrizio is a fat vegan! Are you hoping to convert all us vegan lardsters into fit and he...
- Angie W.
Oh we are all Fantastic Amazing Terrific (FAT) here! :D <3 :*
- Patrizio B.
That looks good.
- Sis W.
Thank you, Sis Wolf <3
- Patrizio B.
What is lasanga?
- Swati K.
Lasagna? I never heard b4...
- Swati K.
http://en.wikipedia.org/wiki/Lasagne ;)
- Patrizio B.
What I made is a raw vegan counterpart. ;)
- Patrizio B.