Pineapple - parsley - soup with sugar peas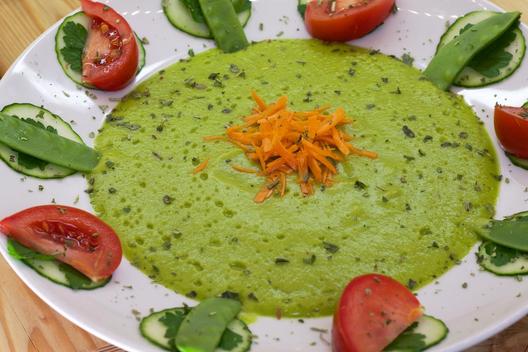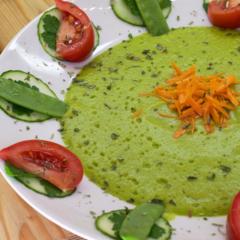 This evening I had a soup made of one pineapple, seven dates and a hand full of fresh parsley with sugar peas, fine pieces of a carrot, slices of cucumber and pieces of a tomato.
If not stated otherwise then the amount of ingredients is for one meal, but this could still mean more than one serving of the pictured dish.
All fruits and vegetables have to be ripe. That's of the uttermost importance, only this way are they tasting yummy, are having all their essential nutrients in them and can be digested optimally by our body.
Preparation
Soup
Put all ingredients for the soup in a high speed blender, like the Blendtec
Put some softer fruits in the blender first so it has something to "chew" on
Maybe cut harder produce into pieces and put them into the blender with some soft stuff
Avocado, nuts or seeds are optional
Blend ingredients at high speed
Blend longer if you want your soup warmer
Fruits and veggies directory
Checkout the fruits and veggie directory to see how to ripen your produce or how to know when stuff is ripe.
Thank you, Heydenberk Robin-Warren!
- Patrizio B.
(Zilver) lening tussen individuen ernstig bieden Lady en gentleman, bied ik lening van 5000 € tot 2.000.000 € aan iedereen kun...
- Albertus J.
Your dishes are impressive always looking delicious and colorful
- Rick C.
Thank you for your kind words, Rick!
- Patrizio B.
That's just what I was thinking, Patrizio Bekerle your dishes look like ART! Beautiful dishes! Are you a chef?
- Cheryl L.
Thanks a lot, my dears! <3 I'm no chef, Cheryl. Just my own private chef. :)
- Patrizio B.
oh wow.. I bet this was really good
- Teresa W.
Oh, you will win that bet! <3 :)
- Patrizio B.
https://www.youtube.com/watch?v=UI_r84Q_pZY
- Jordan B.
Are you raw food vegan? I looooooove your posts!
- Radharani M.
Thank you, Radharani! <3 Yes, I am. ;)
- Patrizio B.
Much admiration for you!! I sometimes have struggles being a vegan and I've been a vegetarian for my entire life! Never had meat!
- Radharani M.
Makes life definitely not easier, but better! <3
- Patrizio B.
I have been thinking of raw for a while. I don't like to cook and I would not have to make a dirty dish.. You really have a win...
- Maggie R.
That's true! Fruits are super-simple and fast! The real fast food! :) <3
- Patrizio B.
I disagree Patrizio Bekerle... as a single mama of 5 ages 20,18,14,12,and 3yrs. being vegan has simplified my life in so many w...
- Dawn M.
Where is the disagreement, Dawn? :) I completely agree with you. :) Wow, single mum of 5 kids, I deeply bow to you! <3
- Patrizio B.
When you started that it "definitely wasn't easier..."
- Dawn M.
And thank you! My children are amazing.
- Dawn M.
Ah, I see. :) I'm happy your life got easier. :) In regard to "cooking" mine got a lot easier too. <3
- Patrizio B.
You certainly know how to present your food - looks delicious.
- Alison G.
Thank you Alison! <3
- Patrizio B.
Wow, I Love it! Thanks will def try it! Looks amazing! :)
- Claudy F.
Thank you, Claudy! <3 It was yummy. :)
- Patrizio B.
I'm sure it was! Will let you know when I try it! This week for sure! ;)
- Claudy F.
Can't wait! ;)
- Patrizio B.
These foods look and sound beautiful. And I'm thinking hard about going raw. The issue I'm having is with food temperature. At...
- Harriett Z.
Thank you, Harriett! <3 I was used to drink hot tea through the winter... since I went raw I didn't have to need to get anythin...
- Patrizio B.
Are you a chef? All the dishes you post look and sound sooooo good!
- Brenda J.
Wow, Beautiful!
- Karen M.
Patrizio, what do you usually have for breakfast.
- Harriett Z.
Thank you, Brenda and Karen! <3 So far I'm no chef. ;)
- Patrizio B.
Currently I usually have some oranges after I arrive at work by bike, Harriett. But on weekends I skip breakfast and have a big...
- Patrizio B.
I hope to get there.
- Harriett Z.
Just start. ☀️
- Patrizio B.
Pineapple soup yum ... I'm starving.
- Chantel M.
Yum, yum, yum. <3 :)
- Patrizio B.