Pineapple - peppers - basil - soup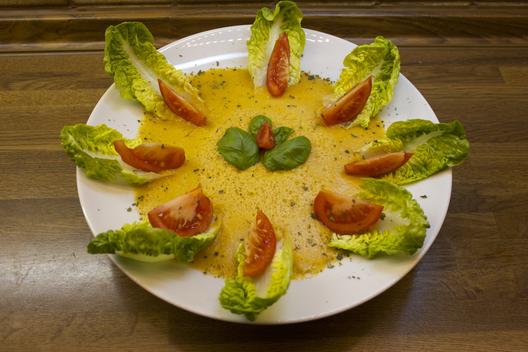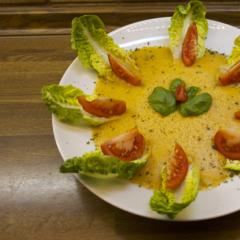 Today I made a very sweet soup of one large pineapple, one sweet red pepper, four stalks of celery and a hand full of fresh basil. I ate it with baby - lettuce and sliced tomatoes.
If not stated otherwise then the amount of ingredients is for one meal, but this could still mean more than one serving of the pictured dish.
All fruits and vegetables have to be ripe. That's of the uttermost importance, only this way are they tasting yummy, are having all their essential nutrients in them and can be digested optimally by our body.
Preparation
Soup
Put all ingredients for the soup in a high speed blender, like the Blendtec
Put some softer fruits in the blender first so it has something to "chew" on
Maybe cut harder produce into pieces and put them into the blender with some soft stuff
Avocado, nuts or seeds are optional
Blend ingredients at high speed
Blend longer if you want your soup warmer
Fruits and veggies directory
Checkout the fruits and veggie directory to see how to ripen your produce or how to know when stuff is ripe.
That looks incredible!
- Dawn M.
I became vegan September 23, 2013...mostly raw with an ultimately goal of fully raw. Are you a raw vegan?
- Dawn M.
Oh yes! <3 On the other hand, sweet red peppers works with everything. ;)
- Patrizio B.
Hmmmm lecker!
- Sirimongkon N.
Patrizio, do you have a restaurant? If you don't maybe you should consider it. The dishes you have posted are not only chock fu...
- Shelly V.
Thank you, Shelly! Maybe when the masses are ready. :)
- Patrizio B.
beautiful and made with love, ty for the recipe
- Rosemary D.
Thank you for your kind words, Rosemary! <3
- Patrizio B.
I want this! :)
- Ciara P.
You are on a roll Patrizio! Beautiful.
- Suzanne F.
Looks beautiful!
- Kevin M.
Patrizio, have you abolished the hearts in protest against Valentines? I'm going to cry if I don't see some on your plate tomor...
- Frances M.
Have to add more hearts again! :D Today for sure! :)
- Patrizio B.
I love the way you make and plate your food. Looking forward to your heart version :-)
- Domi N.
Wanna cook for me? Lol looks yummy!
- Amy B.
hehe, come over ;)
- Patrizio B.
A little far for dinner. Lol
- Amy B.
hehe, think so :)
- Patrizio B.
That looks and sounds amazing!!! Gonna have to try it too.
- Veggie S.
Thank you, Veggie Strong! <3
- Patrizio B.
I and totally amazed how creative you are. :)
- Jacob D.
looks delish <3
- Rosy D.
I'm just a mere fruits and veggie lover! <3
- Patrizio B.
its a nice presentation, thanks for shering your recipe i hope a lot of people this.
- Erwen A.
I bow to you, Erwen! <3
- Patrizio B.
Wow!! Its so colourfullllll!! I m loving it:-)
- Swati K.