Carrots on orange - date - cream with cucumber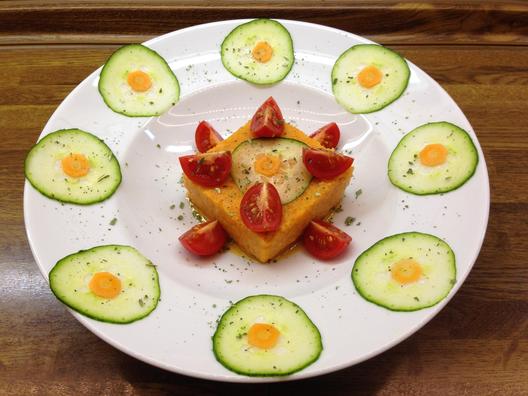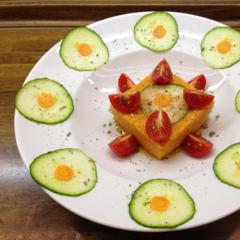 This time I made finely chopped carrots with a cream of four large oranges, ten dates and three stalks of celery and with thin slices of cucumber and some tomatoes.
If not stated otherwise then the amount of ingredients is for one meal, but this could still mean more than one serving of the pictured dish.
All fruits and vegetables have to be ripe. That's of the uttermost importance, only this way are they tasting yummy, are having all their essential nutrients in them and can be digested optimally by our body.
Preparation
"Rice" or finely chopped veggies
Cut celeriac or pumpkin in small pieces
Put the pieces in a blender with speed control or "chop" setting (like the Blendtec)
Chop fruits or veggies to "rice"
Best do this before making the sauce, so you don't have the sauce in your blender ;)
Sauce
Put all ingredients for the sauce in a high speed blender, like the Blendtec
Put some softer fruits in the blender first so it has something to "chew" on
Maybe cut harder produce into pieces and put them into the blender with some soft stuff
Avocado, nuts or seeds are optional
Blend ingredients at high speed
Preparation with food ring mold
Place food ring mold on a plate or spatula
Chop ingredients as shown in dish "rice"
Put the chopped ingredients in a bowl and mix them with the sauce until you get a thick dough
Fill the dough with other ingredients in the food ring mold
Smooth down everything in the mold
Use gentle force with the tamper to get the dish out of the ring
Fruits and veggies directory
Checkout the fruits and veggie directory to see how to ripen your produce or how to know when stuff is ripe.
hmmmm, liebe es , sieht wie immer grandios aus , danke Patrizio ♥
- Pat M.
<3 <3 <3 :*
- Patrizio B.
This is pretty, I like how you balanced the tomatoes on the orange square. :D
- Marie R.
yum balance. <3 :) :*
- Patrizio B.
I want to eat this!!! Haha
- Donna D.
Between you and me, it was delicious.
- Patrizio B.
I'm gonna try to make this!!
- Donna D.
Go ahead, make your day! ❤️
- Patrizio B.
Go ahead, make your day! ❤️
- Patrizio B.
you are the best of the best......lots of raw vegan love from cyprus.sat nam
- Antonis A.
delicious!! i want to try
- Pipa E.
You need to eat more!
- Suzi F.
One look at the photo and I knew who had submitted it! Spectacular!
- 'Cherie' C.
Who told you that there wasn't more than on this photo, Suzi Frost? ;)
- Patrizio B.
Ahh well that's okay! Is it a warm up then more grub? Lol
- Suzi F.
Patrizio, your presentation is always amazing. Are you an artist?
- Frances M.
I agree Frances His presentations are a true work of art!
- Marina G.
Thank you, my dears! My artistic skills are lacking, but I make it up with a tremendous love for fruits and veggies.
- Patrizio B.
thanks, Mark!
- Patrizio B.
If my veggies looked this good ... I'd eat them more often!
- Chantel M.
I just love fruits and veggies and they love me back! <3
- Patrizio B.
I'm allergic to many fruits and veggies, so they don't love me back as much!!!
- Chantel M.
That's too bad. :(
- Patrizio B.