Banana - parsley - peppers - "lasagna" on Bok Choy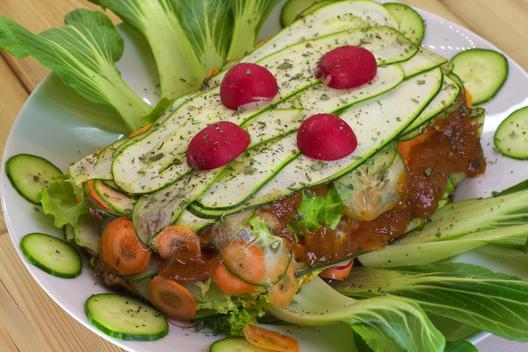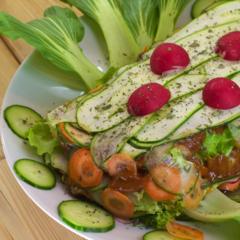 This evening I had a "lasagna" made of zucchini - stripes with a creme of seven bananas, six dates, one sweet red pepper and a hand full of fresh parsley and sliced lettuce, cucumber, radishes and carrots, bedded on Bok Choy.
If not stated otherwise then the amount of ingredients is for one meal, but this could still mean more than one serving of the pictured dish.
All fruits and vegetables have to be ripe. That's of the uttermost importance, only this way are they tasting yummy, are having all their essential nutrients in them and can be digested optimally by our body.
Preparation
"Lasagna"
Slice your ingredients for the layers (like daikon radish, zucchini, lettuce or tomatoes) with your Mandoline - Slicer or a sharp knife
Use your high speed blender, like the Blendtec, to prepare a creamy sauce with the rest of the ingredients (like the fruits and red peppers)
spread a layer of ingredients in a rectangular bowl or deep dish
spread an other layer
spread a layer of sauce
add a layer of an other ingredient
do this until the bowl is full
pull the bowl over on a plate
Cream
Put all ingredients for the cream in a high speed blender, like the Blendtec
Put some softer fruits in the blender first (like bananas) so it has something to "chew" on
Cut harder and large fruits into pieces and put them into the blender with some soft fruits
Blend ingredients at high speed
Blend longer if you want your cream warmer
Fruits and veggies directory
Checkout the fruits and veggie directory to see how to ripen your produce or how to know when stuff is ripe.
Thank you, Yip! <3
- Patrizio B.
Oh my that looks scrumptious!
- Valerie M.
Thank you, Valerie! <3 :*
- Patrizio B.
Your very welcome friend ❤️
- Valerie M.
(Zilver) lening tussen individuen ernstig bieden Lady en gentleman, bied ik lening van 5000 € tot 2.000.000 € aan iedereen kun...
- Albertus J.
wow looks really yummy
- Kimberly P.
thank you, Kimberly! <3
- Patrizio B.
Your work is visually some of the most beautiful I have ever seen. I just notice that you do some food combining that I had AL...
- Violet B.
Thank you for your kind words, Violet! <3 I get no issues digesting the meals, since the largest part of it are fruits (zucchin...
- Patrizio B.
Keep them coming Patrizio, I can see your eating almost 100% raw! :)
- Jordan B.
Well, at least these meals are! ;)
- Patrizio B.
mouthwatering!
- Meghan M.
thank you, Meghan Marie <3
- Patrizio B.
Patrizio Bekerle how do you have time to make all this wonderful food?
- Princess V.
:* I sometimes ask myself the same question, cause it takes time... %-)
- Patrizio B.
So simply and just simply amazing, love it thanks for sharing God bless you. Looks so good.
- Milton K.
Thank you, Milton! I like it simple! ;)
- Patrizio B.
Looks good. Bananas are pretty sweet.
- Laura T.
Thank you, Laura! <3 I like sweet. :)
- Patrizio B.