Pineapple - orange - parsley - soup on Bok Choy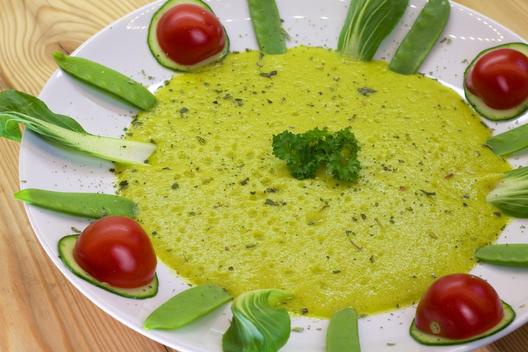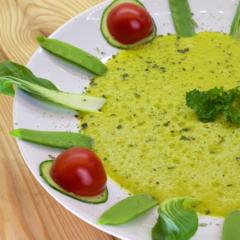 Today I had a creamy soup made of one pineapple, three oranges, three medjoul dates, two stalks of celery and a hand full of fresh parsley with some small tomatoes, some cucumber slices, sugar peas and Bok Choy.
If not stated otherwise then the amount of ingredients is for one meal, but this could still mean more than one serving of the pictured dish.
All fruits and vegetables have to be ripe. That's of the uttermost importance, only this way are they tasting yummy, are having all their essential nutrients in them and can be digested optimally by our body.
Preparation
Soup
Put all ingredients for the soup in a high speed blender, like the Blendtec
Put some softer fruits in the blender first so it has something to "chew" on
Maybe cut harder produce into pieces and put them into the blender with some soft stuff
Avocado, nuts or seeds are optional
Blend ingredients at high speed
Blend longer if you want your soup warmer
Fruits and veggies directory
Checkout the fruits and veggie directory to see how to ripen your produce or how to know when stuff is ripe.
I like your website :) well done :)
- Annie O.
Thank you, Annie! ;)
- Patrizio B.
Hey brother, I was wondering if you heard anyone else talk about not eating fruits and vegetables at the same meal.for years ma...
- Milton K.
Since tomatoes and cucumber are fruits and fruits go well with leafy greens everything is all right, Milton! ;) <3
- Patrizio B.
Wow !but now it' s to late to eat. :)
- Sirimongkon N.
My thoughts exactly, they mix them up together all the time. So why all of a sudden they trying to say that it's not healthy to...
- Milton K.
(Zilver) lening tussen individuen ernstig bieden Lady en gentleman, bied ik lening van 5000 € tot 2.000.000 € aan iedereen kun...
- Albertus J.
Very healthy soup. (Y)
- Chris V.
om, nom nom :)
- Patrizio B.
Lovely presentation Patrizio!!
- Jackie S.
Thank you, Princess Veevee! <3
- Patrizio B.
Thank you, Judy! <3
- Patrizio B.
Wow! Do you think it would be just as good as a cold shake?
- Barbara L.
I'm sure it also would. :)
- Patrizio B.