Zucchini - spinach - "Lasagna" with orange - parsley - sauce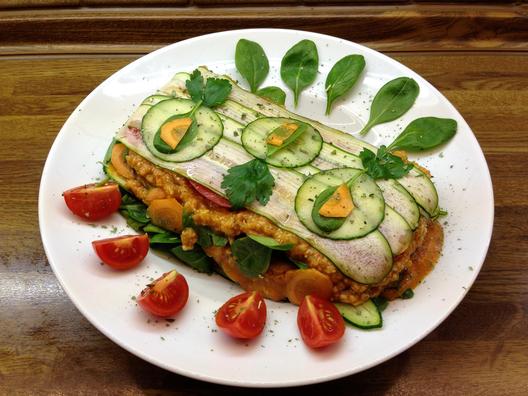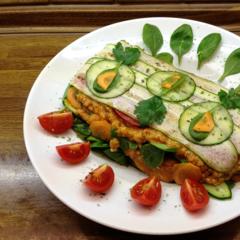 Today I had a very yummy "Lasagna" with layers of zucchini, a bit of shredded celeriac, young spinach, fresh parsley, slices of tomatoes, a small carrot and a piece of cucumber and a sweet sauce of five oranges, nine dates, a hand full of fresh parsley, two stalks of celery and three sweet red peppers.
If not stated otherwise then the amount of ingredients is for one meal, but this could still mean more than one serving of the pictured dish.
All fruits and vegetables have to be ripe. That's of the uttermost importance, only this way are they tasting yummy, are having all their essential nutrients in them and can be digested optimally by our body.
Preparation
"Rice" or finely chopped veggies
Cut celeriac or pumpkin in small pieces
Put the pieces in a blender with speed control or "chop" setting (like the Blendtec)
Chop fruits or veggies to "rice"
Best do this before making the sauce, so you don't have the sauce in your blender ;)
Sauce
Put all ingredients for the sauce in a high speed blender, like the Blendtec
Put some softer fruits in the blender first so it has something to "chew" on
Maybe cut harder produce into pieces and put them into the blender with some soft stuff
Avocado, nuts or seeds are optional
Blend ingredients at high speed
"Lasagna"
Slice your ingredients for the layers (like daikon radish, zucchini, lettuce or tomatoes) with your Mandoline - Slicer or a sharp knife
Use your high speed blender, like the Blendtec, to prepare a creamy sauce with the rest of the ingredients (like the fruits and red peppers)
spread a layer of ingredients in a rectangular bowl or deep dish
spread an other layer
spread a layer of sauce
add a layer of an other ingredient
do this until the bowl is full
pull the bowl over on a plate
Fruits and veggies directory
Checkout the fruits and veggie directory to see how to ripen your produce or how to know when stuff is ripe.
Zucchini - spinach - "Lasagna" with orange - parsley - sauce
Rating:

0

/5 (

0

votes cast)
Thank you for rating!
You have already rated this page, you can only rate it once!
Your rating has been changed, thanks for rating!
Log in or create a user account to rate this page.

And it looks lovely too (Y)
- Kath's P.
Looks amazing!
- Kelly G.
Seriously! Too much food porn!
- Tania E.
thank you, my dears! :) <3 :*
- Patrizio B.
Looks great!!!
- Susan C.
Thanks, Susan! <3
- Patrizio B.
u make me hungry
- Sara G.
Such a work of Art! ♡♡Love all of what you do!☆
- Starr E.
Thank you for your kind words, Starr Elliott! <3
- Patrizio B.
Your welcome! Thank you for sharing your delicious food Art! ☆
- Starr E.
Luv the presentation , healtly dish...Awesome!!!!
- Rosalee D.
thank you, my dears! :* <3
- Patrizio B.
Patrizio, you should join our fun little ( private) foodie group. Sharing recipes..it's basically what we eat daily it's called...
- Christi B.
If the group is "strong" enough to handle my daily posts I gladly will! <3 I can't find the group, do you have a link, Christi?
- Patrizio B.
lol, I'm sure they will learn to adjust. Not everyone on there is chef material, nor would i attempt to eat some of the dishes....
- Christi B.
Oh, and trust me....most of the group post daily..maybe twice:)
- Christi B.
If the group can handle my amount of posts then please add me! :)
- Patrizio B.
Now THIS makes me want to eat healthy!
- Hannah H.
Get out of Town ! ! ! ! Can I get that to go ? Wow , ! That's outa the park!
- Linda L.
Haha, thank you ladies! <3 :)
- Patrizio B.
omg amazing once again.
- Asma R.
I've pinned your page and shared it.. Going to try it this weekend :)
- Hannah H.
Thank you, Hannah! I'm looking forward to hear from your experiences! <3
- Patrizio B.
I had leftover lasagne too but it doesn't look as pretty as yours does! I bet yours was very tasty too! I know mine was!
- Cherie B.
Hehe, wonderful! ❤️☀️
- Patrizio B.
You truly are a compassionate artist!! Love your creations!
- Nerida M.
Do you think these recipes up in your head? They are so beautifully presented. I haven't tried any yet - do they taste as goo...
- Cherie J.
This looks deliciously refreshing!
- Arlene R.
So incredibly delicious :) I love raw lasagne.
- Bryan N.
yes, the universe is whispering them into my ear, Cherie ;)
- Patrizio B.
thank you, my dears :*
- Patrizio B.