Mango - blueberry - "pasta"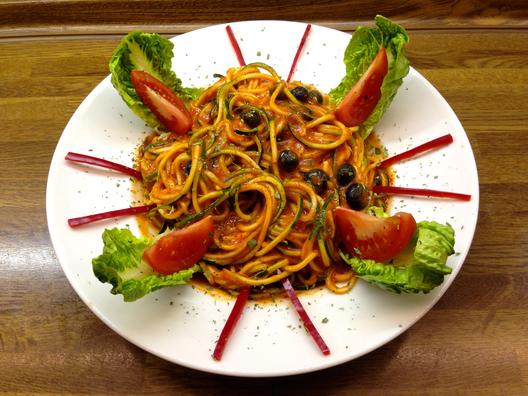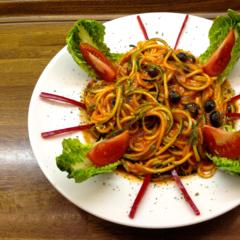 This evening I had a "pasta" made of two zucchini with a cup of blueberries, with two tomatoes, baby - lettuce and a delicious sauce of three mangoes, three stalks of celery and two sweet red peppers.
If not stated otherwise then the amount of ingredients is for one meal, but this could still mean more than one serving of the pictured dish.
All fruits and vegetables have to be ripe. That's of the uttermost importance, only this way are they tasting yummy, are having all their essential nutrients in them and can be digested optimally by our body.
Preparation
Noodles
Get a Lurch Spirali or an other spirulizer.
Use the blade for normal or thick noodles
Put up the summer or winter squash, daikon radish or similar and cut out the noodles
If you use hard fruits or veggies, like winter squash, you may turn the fruit by hand, not by crank
Alternatively you can also use the GEFU Spirelli Spiral Cutter.
Sauce
Put all ingredients for the sauce in a high speed blender, like the Blendtec
Put some softer fruits in the blender first so it has something to "chew" on
Maybe cut harder produce into pieces and put them into the blender with some soft stuff
Avocado, nuts or seeds are optional
Blend ingredients at high speed
Fruits and veggies directory
Checkout the fruits and veggie directory to see how to ripen your produce or how to know when stuff is ripe.
nice presentation, looks yummy too
- Beenzu O.
thank you, Beenzu! <3
- Patrizio B.
Patrizio, in addition, your dishes look almost too good to eat!
- Shelly V.
:) <3 <3 <3
- Patrizio B.
What vegetable noodle maker do you use? I'm trying to order one but can't decide. (All the meals you post look great btw.)
- Juanita H.
Thank you, Juanita! Such a kind: http://www.amazon.com/gp/product/B006THC75E/ref=as_li_tf_tl?ie=UTF8&camp=211189&creative=37348...
- Patrizio B.
Your dishes always look so delicious. And the presentation is awesome!
- Mary T.
Thank you for your kind words, Mary!
- Patrizio B.
gorgeous, as usual! <3
- Eva A.
thank you, my dears! :*
- Patrizio B.
You really love the sweet sauces. I'm about to attempt to make this sauce today. To put it quite bluntly....how does the mixt...
- Rhinda W.
Oh..one more quesiton....do you eat that entire recipe yourself??? Or does it make 2 to 3 servings??
- Rhinda W.
Okay,...so I have another question for you, Patrizio. lol!!! What kind of mangoes are you using? The cute little Mexican one...
- Rhinda W.
I think he eats it all by himself and yes, using those large regular mangos! Don't you, Patrizio :-)?!
- Tijana C.
LOL!!! A big appetite, perhaps? That's fine. I like leftovers. :-)
- Rhinda W.
There is no gas-problem, Rhinda. ;) And as I write on the webpage, I ate it alone. And as for the mangoes, they are linked on t...
- Patrizio B.
You are perfectly right with both answers, Tijana! :D Thank you! ;)
- Patrizio B.
Looks so good! Can't wait to get my spiralizer! ❤️
- Stacy S.
I blended what i had in my fridge today. 2 manoes, 1 red bell pepper, 1/2 stalk of celery, and some cheyenne pepper to spice...
- Rhinda W.
Sounds awesome, Rhinda!
- Patrizio B.
You will love it, Stacy! <3
- Patrizio B.
OMG!!! This meal is beautiful and I bet delicious too!!!
- Blessings L.
U r incredible!!!!!
- Marina G.
looks very good !
- Andrew N.
Hugs to you all! <3
- Patrizio B.
I wondered how you made the pasta. Thanks will have to invest in one. Beautiful presentation as usual
- Mary R.
Thank you, Mary! ☀️❤️
- Patrizio B.