Zucchini - papaya - "Lasagna"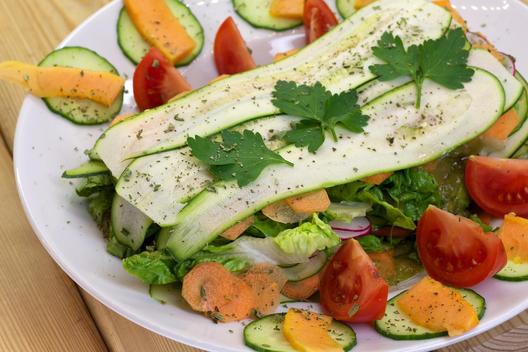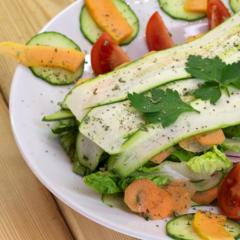 Today I had a "Lasagna" with layers of zucchini, sliced cucumber, tomatoes, carrots, radishes, parsley and a creme of eight bananas, one papaya, one stalk of celery and a hand full of fresh parsley.
If not stated otherwise then the amount of ingredients is for one meal, but this could still mean more than one serving of the pictured dish.
All fruits and vegetables have to be ripe. That's of the uttermost importance, only this way are they tasting yummy, are having all their essential nutrients in them and can be digested optimally by our body.
Preparation
"Lasagna"
Slice your ingredients for the layers (like daikon radish, zucchini, lettuce or tomatoes) with your Mandoline - Slicer or a sharp knife
Use your high speed blender, like the Blendtec, to prepare a creamy sauce with the rest of the ingredients (like the fruits and red peppers)
spread a layer of ingredients in a rectangular bowl or deep dish
spread an other layer
spread a layer of sauce
add a layer of an other ingredient
do this until the bowl is full
pull the bowl over on a plate
Cream
Put all ingredients for the cream in a high speed blender, like the Blendtec
Put some softer fruits in the blender first (like bananas) so it has something to "chew" on
Cut harder and large fruits into pieces and put them into the blender with some soft fruits
Blend ingredients at high speed
Blend longer if you want your cream warmer
Fruits and veggies directory
Checkout the fruits and veggie directory to see how to ripen your produce or how to know when stuff is ripe.
That looks good, papaya try it with some pinch of lemon juice mash it good.
- Sunshine B.
Make a smoothie with strawberries, bananas, papayas and a pinch of sea salt, that's good.
- Sunshine B.
Sounds great! <3
- Patrizio B.
It all looks and sounds so good, love it God bless. .
- Milton K.
Thanks a lot, my dear ones! <3
- Patrizio B.
Hi, curious.. do you not worry about food combining?
- Theresa T.
Omg...yummy!!! Im curious what fabulousness do you eat for breakfast....ohhh you will have to share! ;)
- Katie B.
What should I worry about in particular, Theresa? :)
- Patrizio B.
Thank you, Katie. <3 Nowadays mostly oranges, because they are sweet, juicy and in season!
- Patrizio B.
It is my understanding that certain fruits and certain vegetables should not be eaten together There are MANY charts. Lots of i...
- Theresa T.
http://www.blog.thewholelifestyle.com/wp-content/uploads/2013/03/FoodCombining.jpg
- Theresa T.
It looks like the image isn't available any more, but I know these charts. It's boring to shoot fruits with greens every day, b...
- Patrizio B.
Ummmmmmm good
- Pamela A.
https://www.facebook.com/Chef.Aqeel page ☞ ☞ ☞ ☞ ☞ ☞ Like page ☞ ☞ ☞ ☞ ☞ ☞ uuuuu Lover of food (Y) (Y) (Y) (Y)
- Aqeel A.
I love the colors in this.
- Chantel M.
The colors of living food! <3
- Patrizio B.