Apple - grape - salad with basil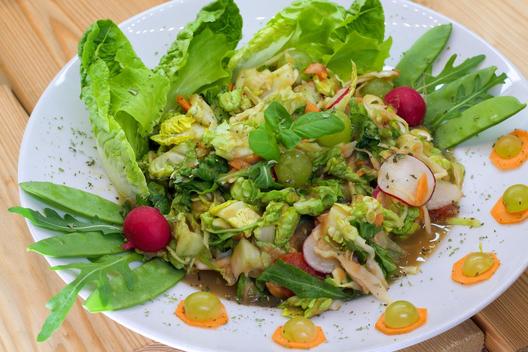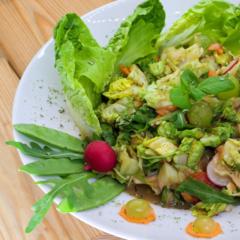 This evening I made myself a salad with baby - lettuce, curled lettuce, radishes, sugar peas, arugula, carrots, grapes, tomatoes, white cabbage and a dressing of one pound of grapes, three apples, the juice of one lemon and fresh basil.
If not stated otherwise then the amount of ingredients is for one meal, but this could still mean more than one serving of the pictured dish.
All fruits and vegetables have to be ripe. That's of the uttermost importance, only this way are they tasting yummy, are having all their essential nutrients in them and can be digested optimally by our body.
Preparation
Sauce
Put all ingredients for the sauce in a high speed blender, like the Blendtec
Put some softer fruits in the blender first so it has something to "chew" on
Maybe cut harder produce into pieces and put them into the blender with some soft stuff
Avocado, nuts or seeds are optional
Blend ingredients at high speed
Salad
Wash the lettuce leaves, use your spinner to dry them and put them in a bowl.
Dice your fruits and veggies and also put them in the bowl. A flexible cutting mat is very useful to do so!
Most of the time juicy fruits are enough as a dressing. If you want no other dressing you could just squeeze some lemons or an orange on top of your salad.
Fruits and veggies directory
Checkout the fruits and veggie directory to see how to ripen your produce or how to know when stuff is ripe.
Wow Patrizio, your plates look like they just came out of a 5 star restaurant, a 5star raw vegan restaurant that is :) Just del...
- Polly M.
Thank you, Polly! :) <3 I'm more the sun - type, not the star - type. :)
- Patrizio B.
Haha all good vegan brother ✌
- Polly M.
Will be making this one day soon, as soon as I clear out my fridge again, love it God bless.
- Milton K.
Let's hope your fridge is not too big. <3 :)
- Patrizio B.
Lol, no not at all brother, the things that I eat are a minimum of leftover vegetarian soy products that is the only things I e...
- Milton K.
And now that it is spring again, more sunlight! <3
- Patrizio B.
another beautiful creation patrizio :)
- Jonny F.
Thank you, Jonny!
- Patrizio B.
Nom nom!!! That looks delish!
- Christine L.
Great you like it, Christine! <3
- Patrizio B.
perfection as allways.sat nam
- Antonis A.
Fruits and veggies are perfect in themselves already! ☀️❤️
- Raw H.
Love it God bless .to your health.
- Milton K.
Thank you! God will always watch your steps, Milton!
- Patrizio B.
thank you, Glenn ;)
- Patrizio B.
Thanks brother, I know he will, to your health God Bless.
- Milton K.
I have had a sickness bug which is a first for me and the only food I have been able to look at past few days is yours..kinda g...
- Julie A.
Thank you, Julie! :* You can't go wrong with fruits and veggies! <3 :)
- Patrizio B.
Think it is the way to for me
- Julie A.
Your path to the best you you can be! <3
- Patrizio B.
What is a big NO to eating raw
- Julie A.
So good love how it looks and I know it was good too. Eat to your health, God bless.
- Milton K.
We are what we eat! Thank you, Milton! <3
- Patrizio B.
There was a time when if my brother found something green on his plate, he thought it was bad and threw it out! LOL! To this da...
- James O.
Oh my god, beware of the vegetable invasion! :D
- Patrizio B.
Yeah, my brother is a preacher, but he probably kill a spinach walking towards his house! LOL!
- James O.
It does look scrumdiddlyumptious Love!
- James O.
We all need our time. ;)
- Patrizio B.
That's so true brother, we truly are what we eat. To your health God bless.
- Milton K.
Oh YUMMY looking! :)
- Brenda J.
So I went to the rawfoodhappiness? FB page. On the recipes, there is no ingredient list showing. I love what you do. Please exp...
- Harriett Z.
Thank you, Brenda! <3
- Patrizio B.
The ingredients are all here, Harriett. And the quantities entirely depend on your appetite on the ingredients. :)
- Patrizio B.
Oh, I see what you mean. This is exciting
- Harriett Z.
The bulk of calories came from the sauce. So I wrote down the quantities for it. ;)
- Patrizio B.
it looks too pretty to eat, but I know it'd taste wonderful!
- Susan W.
Thank you, Susan!
- Patrizio B.
Patrizio Bekerle you should try Lettuce & Baked Vegetable Salad :) http://on.fb.me/1l2opRQ
- Anamika S.
Looks great, but no baked anything for me. :) I like it "raw". <3
- Patrizio B.