Mango - peppers - cucumber - wraps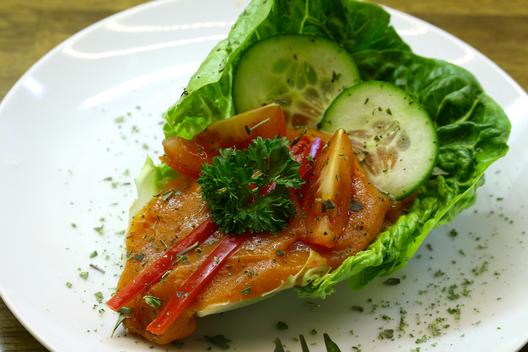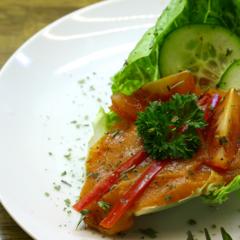 This evening I had lettuce - wraps with pieces of tomato, sweet red peppers sticks, cucumber slices, some fresh parsley and a creme of three mangoes, seven dates and two sweet red peppers. You can close the two lettuce - leaves and hold the wrap in your hand. Very yummy! <3
If not stated otherwise then the amount of ingredients is for one meal, but this could still mean more than one serving of the pictured dish.
All fruits and vegetables have to be ripe. That's of the uttermost importance, only this way are they tasting yummy, are having all their essential nutrients in them and can be digested optimally by our body.
Preparation
Cream
Put all ingredients for the cream in a high speed blender, like the Blendtec
Put some softer fruits in the blender first (like bananas) so it has something to "chew" on
Cut harder and large fruits into pieces and put them into the blender with some soft fruits
Blend ingredients at high speed
Blend longer if you want your cream warmer
Fruits and veggies directory
Checkout the fruits and veggie directory to see how to ripen your produce or how to know when stuff is ripe.
patrizio! nach dein vorschlag habe ich das gemacht!!
- Alireza B.
Seeeehr gut! Wundervoll!
- Patrizio B.
spirit bless your journey
- Vaijayanti M.
I bow to you, Vaijayanti Mala <3
- Patrizio B.
looks very tasty
- Sara G.
Thank you, Sara! <3
- Patrizio B.
Wow! Delicious looking.
- Tammy H.
Thank you, Tammy! ;)
- Patrizio B.
Und was damit machen? :)
- Raw H.
O i have all these ingredients rn! I'm going to try it. Thank you for the idea!
- Melanie X.
I'm happy you like it! :) <3
- Patrizio B.
Can I share your recipes? I'd like to water the mouth of my non-vegan FB-friends.
- Gerald V.
Nothing more to do as I mention on the page, just a simple sauce. <3
- Patrizio B.
Sorry, I don't get it. Talking donations?
- Gerald V.
Please reframe your question. What are you searching for? You will find the ingredients, instructions how to make the creme, us...
- Patrizio B.
I will have to try this!
- Kimberly P.
looks yummy will try this one for sure
- Mae P.
thank you, my dears! <3
- Patrizio B.
You come up with such beautifully prepared dishes!
- Donna W.
Thanks Donna! <3 :*
- Patrizio B.
yum, you make everything look amazing, I'm off to a raw convention in May in Sydney, can't wait
- Frances F.
Thank you, Frances! <3 Surely an interesting event!
- Patrizio B.
Excuse me! up to 88% off on original Ray-Ban Sunglasses, Sunglasses for everyday discount prices on here, Classic, Styles and v...
- Tiffany T.
Very artistic as usual. Food as genitalia! Love it x
- 'Cherie' C.
lol, I'm sure one can think of that interpretation. :) Root chakra. <3
- Patrizio B.
It's all yummy Patrizio ! <3
- 'Cherie' C.
He has eyes and beard!
- Frances M.
Women don't usually have beards, but if they do I have no problem with that. I just thought 'he' when I saw it.
- Frances M.
But you're right, 'it' would have been far more sensible! ;)
- Frances M.
it's clearly a "she"
- Jeff M.
Depends which end you look at!
- Frances M.
I mean it could be a woman with a bow in her hair, if you look at the top of the head as being on the left....
- Frances M.
No, wait, then her eyes would be on her chin! ;)
- Frances M.
It's definitely not her face. But most definitely a "she."
- Dawn M.
I've heard that before. :)
- Patrizio B.
Wow, this reminds me of my ... whoops!! lol
- Chantel M.
Now that you are mentioning it. :) lol
- Patrizio B.