Orange - fig - broccoli - rolls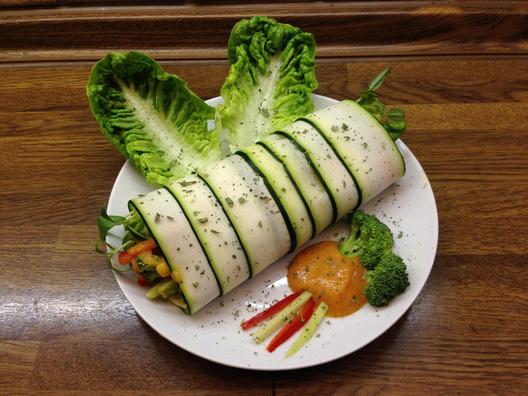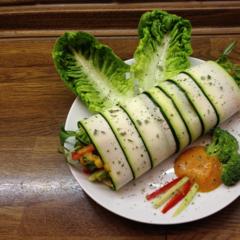 This evening I made jumbo - rolls of zucchini, filled with small pieces of broccoli and eggplant, sticks of sweet red peppers, sprouted mung beans, stripes of baby - lettuce and a yummy sauce of five large oranges, five dried figs, five dates, three stalks of celery and two sweet red peppers.
If not stated otherwise then the amount of ingredients is for one meal, but this could still mean more than one serving of the pictured dish.
All fruits and vegetables have to be ripe. That's of the uttermost importance, only this way are they tasting yummy, are having all their essential nutrients in them and can be digested optimally by our body.
Preparation
Sauce
Put all ingredients for the sauce in a high speed blender, like the Blendtec
Put some softer fruits in the blender first so it has something to "chew" on
Maybe cut harder produce into pieces and put them into the blender with some soft stuff
Avocado, nuts or seeds are optional
Blend ingredients at high speed
Rolls
Slice daikon radish, zucchini or eggplant with your Mandoline - Slicer in thin and long slices and place them overlapping on a plate
Place the cut other ingredients on a small stripe and put some of the sauce on them
raise the radish/zucchini stripes with a big knife, fold it over the ingredient - stripe and form a roll
Fruits and veggies directory
Checkout the fruits and veggie directory to see how to ripen your produce or how to know when stuff is ripe.
Inspiration, move me brightly.
- Delilah J.
I bow to you, Delilah!
- Patrizio B.
Your posts always look soooooo delicious!!! wow! this wrap looks amazing!!! send me some? ;)
- Rebecca J.
thank you, Rebecca! they are never lasting long ;)
- Patrizio B.
I bet!! and you plate them so beautifully! picture perfect !!
- Rebecca J.
thank you, my dear. no one gets inspired to eat more fruits and veggies if the dished are looking like a heap of something, so...
- Patrizio B.
A work of art
- Babette D.
Thank you, Babette! <3
- Patrizio B.
looks so good
- Michelle S.
Looks delicious and nutritious too!
- Deborah S.
Wow! Looks delicious. Would love to try it!
- Patricia J.
Avez-vous besoin d'un prêt d'argent de particuliers à particuliers sans l'aide d'une banque? Je suis particulier disposant un c...
- Felicite A.
any suggestions for substituting figs and dates??? (allergies)
- Sonja S.
I just used them to make the sauce thicker and sweeter. It's not perfect food combination, but you could add half an avocado fo...
- Raw H.
okay thank you :)
- Sonja S.
Or just use an other sauce, maybe something with mangoes. ;)
- Raw H.
That's what I use right now...but I'm looking for variety! :)
- Sonja S.
Get some sweet and ripe fruits. ❤️
- Raw H.
Your delicious pics have inspired me to get a spiral slicer and have at it. wow that looks good!
- Ginny F.
That's the spirit! <3
- Patrizio B.
Pretty - will have to try this!
- Carol S.
Spirit of Raw!
- Jordan B.
This is it love this recipe!! I made this with my friend and we both like it, she even ask some to take home. Thank you very mu...
- Nely H.
I'm very happy to hear that, Nely ! ❤️☀️
- Patrizio B.
You got skills!
- Andrew N.
Looks amazing :-)
- Helen M.
Thank you, my dears!
- Patrizio B.
this looks just heavenly!
- Kristina J.
Delicious looking
- Julie A.
Mate, you're amazing!
- Jamie V.
Thank you, Jamie. I'm just a mere fruits and veggie lover.
- Patrizio B.
Sounds awesome!!!
- Candy M.
yum, yum :)
- Patrizio B.
that looks amazing
- KiaKatrinaforever J.
thank you, KiaKatrinaforever <3
- Patrizio B.
That looks fantastic :)
- Dan W.
a little rabbit? LOL looks amazing
- Jacob D.
wow <3 :O that looks amazing
- Casey R.
thank you, Casey!
- Patrizio B.
You are a artist for food,bravo! :)
- Ana F.
Hugs to you, Ana!
- Patrizio B.
looks so yummy and healthy!
- Violee M.
Is it eggplant mns brinjal??
- Swati K.
Never heard this term before.
- Patrizio B.
I mn... What is eggplant?
- Swati K.
http://en.m.wikipedia.org/wiki/Eggplant
- Patrizio B.
Yesssss its brinjal in India.... Yuppyyyy
- Swati K.
presentation is superb
- Minu M.