Cucumber - carrot - pineapple - basil - "pasta"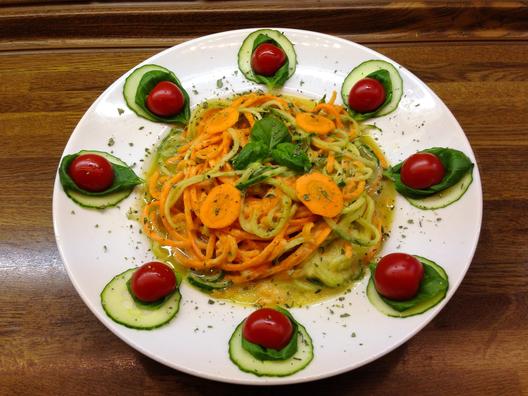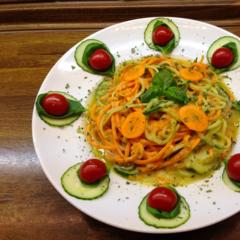 This evening I had a "pasta" made of half a cucumber and three carrots with some cocktail tomatoes, fresh basil and a delicious sauce of a pineapple, ten dates and four stalks of celery.
If not stated otherwise then the amount of ingredients is for one meal, but this could still mean more than one serving of the pictured dish.
All fruits and vegetables have to be ripe. That's of the uttermost importance, only this way are they tasting yummy, are having all their essential nutrients in them and can be digested optimally by our body.
Preparation
Noodles
Get a Lurch Spirali or an other spirulizer.
Use the blade for normal or thick noodles
Put up the summer or winter squash, daikon radish or similar and cut out the noodles
If you use hard fruits or veggies, like winter squash, you may turn the fruit by hand, not by crank
Alternatively you can also use the GEFU Spirelli Spiral Cutter.
Sauce
Put all ingredients for the sauce in a high speed blender, like the Blendtec
Put some softer fruits in the blender first so it has something to "chew" on
Maybe cut harder produce into pieces and put them into the blender with some soft stuff
Avocado, nuts or seeds are optional
Blend ingredients at high speed
Fruits and veggies directory
Checkout the fruits and veggie directory to see how to ripen your produce or how to know when stuff is ripe.
.. and your presentations are so symmetrical and balanced. no wonder you're a software dude ;-)
- Anthony V.
Hahaha, true! :D
- Patrizio B.
Looks so good! :)
- Ana F.
:-) Lovely <3 ! I love the symmetry!! Feels very feng shui. Energetically pleasing ;-)
- Leonie V.
I too love balance. :) <3
- Patrizio B.
I like your postings, both spiritual and culinary. This should not go without being appreciated. Hence this comment. Thank you.
- Tka N.
That looks amazing. How was the flavor?
- Dawn R.
Thank you! How to describe flavor? Pineapple!
- Patrizio B.
Avez-vous besoin d'un prêt d'argent de particuliers à particuliers sans l'aide d'une banque? Je suis particulier disposant un c...
- Felicite A.
Do you use a spiralizer for your carrots, or use a processor ?
- Kathy D.
I link everything I use at the recipe. ;) <3 In this case I used this tool: http://www.rawhealthandhappiness.com/Tools/GEFU-Spi...
- Patrizio B.
Cool tool, I've never seen one of those (I have the huge hand-crank kind). Thanks :)
- Kathy D.
I've this one too: http://www.rawhealthandhappiness.com/Tools/Spirulizer But for carrots (or fruits or veggies that are not "st...
- Patrizio B.
www.MonoAtoms.com
- Jordan B.
U r a true artist Patrzio!
- Marina G.
I only take a photo of nature's beauty. <3
- Patrizio B.
No hearts! :'(
- Frances M.
Sexy! Your creations are sexy!
- Brittany S.
Thank you, Brittany !
- Patrizio B.
Wow ! Looks great too :)
- Dan W.
Thank you, Dan! ;)
- Patrizio B.
Pleasure Patrizio Bekerle, your food just makes my mouth water. If only you lived in the UK, you could send me deliveries. :)
- Dan W.