Banana - veggie - "power - sandwiches"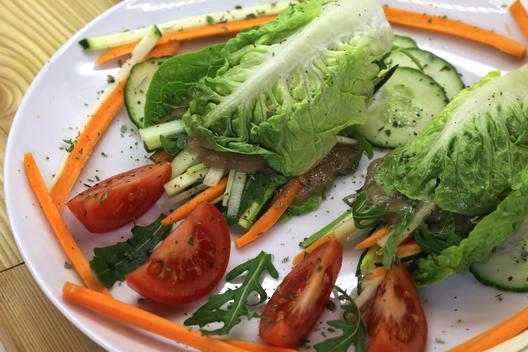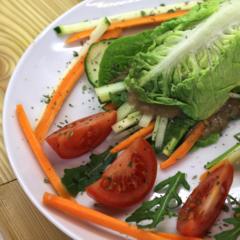 This evening I had post - workout "power - sandwiches" with sticks of zucchini, carrots and cucumber, arugula and a cream of nine bananas, one big apple and four dates in lettuce leaves as "bread" with some sliced tomatoes.
If not stated otherwise then the amount of ingredients is for one meal, but this could still mean more than one serving of the pictured dish.
All fruits and vegetables have to be ripe. That's of the uttermost importance, only this way are they tasting yummy, are having all their essential nutrients in them and can be digested optimally by our body.
Preparation
Sandwich
Slice your ingredient for the Sandwich - "bread" (like celeriac or pumpkin) with your Mandoline - Slicer or a sharp knife
The key is to make it thin enough that you can bite it and think enough that it doesn't fall apart
Spread a layer of an other ingredient on your bottom slice of your "bread" (like sliced tomatoes, sliced cucumber or lettuce)
Put a bit of sauce on it
Spread an other layer
Add more sauce
Proceed as long as you want
Place the top "bread" on it
Cream
Put all ingredients for the cream in a high speed blender, like the Blendtec
Put some softer fruits in the blender first (like bananas) so it has something to "chew" on
Cut harder and large fruits into pieces and put them into the blender with some soft fruits
Blend ingredients at high speed
Blend longer if you want your cream warmer
Fruits and veggies directory
Checkout the fruits and veggie directory to see how to ripen your produce or how to know when stuff is ripe.
I could eat at your house every meal!
- Dawn M.
Thank you, Dawn! <3 Makes me happy to hear that!
- Patrizio B.
May I ask where you get protein from? I haven't seen any nuts, seeds etc.
- Don S.
From fruits and veggies of course! :D
- Patrizio B.
I am not aware that fruit and vegetables have protein, at least more then a miniscule amount.
- Don S.
You can track with http://cronometer.com/ You will be amazed...
- Patrizio B.
Thanks.Will check it out.
- Don S.
I tracked about 8 month in the "beginning" to make sure...
- Patrizio B.
What is inside in that cabbage leaf?
- Swati K.
The veggies and the sauce I described. :)
- Patrizio B.