Pineapple mango spinach noodles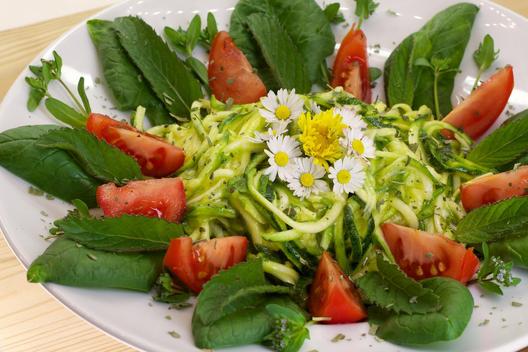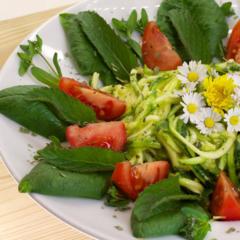 Today I had noodles made of zucchini with spinach, lamb's lettuce and mint from my garden, some tomatoes, a dandelion, some daisies and a sauce of one pineapple and one mango.
If not stated otherwise then the amount of ingredients is for one meal, but this could still mean more than one serving of the pictured dish.
All fruits and vegetables have to be ripe. That's of the uttermost importance, only this way are they tasting yummy, are having all their essential nutrients in them and can be digested optimally by our body.
Preparation
Noodles
Get a Lurch Spirali or an other spirulizer.
Use the blade for normal or thick noodles
Put up the summer or winter squash, daikon radish or similar and cut out the noodles
If you use hard fruits or veggies, like winter squash, you may turn the fruit by hand, not by crank
Alternatively you can also use the GEFU Spirelli Spiral Cutter.
Sauce
Put all ingredients for the sauce in a high speed blender, like the Blendtec
Put some softer fruits in the blender first so it has something to "chew" on
Maybe cut harder produce into pieces and put them into the blender with some soft stuff
Avocado, nuts or seeds are optional
Blend ingredients at high speed
Fruits and veggies directory
Checkout the fruits and veggie directory to see how to ripen your produce or how to know when stuff is ripe.
Today I am having bitter salad leaves n sweet melon with a sauce of basil, seeds, pinenuts n wild garlic leaves. No foto as can...
- Vaijayanti M.
I'm very happy you could find inspiration! ❤️☀️ you could try to post the photo directly to the group at https://www.facebook.c...
- Patrizio B.
That zucchini is mouthwatering..mango pineapple sauce? daisies?? spinach?? I think I hear a symphony! <3
- Hanifah M.
Oh yes, it was! <3
- Patrizio B.
Patrizio you beautiful man inside out! You inspire me so much. I truly look forward to looking and reading your daily post! I h...
- Isabelle G.
Thank you so much for your loving words! They really brighten up my day, Isabelle! ❤️
- Patrizio B.
Love it, looks so amazing God bless.
- Milton K.
So pretty and I be yummy.
- Cupcakecutecat Z.
That looks heavenly
- Becky T.
Thank you, Becky! <3
- Patrizio B.
Another beautiful masterpiece just waiting to be enjoyed. Love it God bless.
- Milton K.
I bow to you, Milton and Gloria! <3
- Patrizio B.
oh so beautiful !
- Yolanta M.
I thank you, Yolanta!
- Patrizio B.
You make everything look delicious
- Jenny A.
I bow to you, Jenny!
- Patrizio B.
An artful delight to the eye as always ;)
- Lisette L.
This is so beautiful!
- Marina G.
I've never known anyone to eat daisies before today.
- Zoe C.
Thank you, my dears! <3
- Patrizio B.
What do daisies taste like? I eat dandelions
- Rebecca V.
I really can't describe it.
- Patrizio B.
Rebecca, I have millions of dandelions on my allotment, sadly where they are not wanted, come and fill your boots lol.
- Sid D.
My garden is full of food!!! I've been binning it!!!
- Josie A.
I love dandelion & burdock
- Sasper C.
An old song came into my head while peeking at your pic here...'Please please, dont eat the daisies'. Doris Day I think. Quite...
- Jennifer B.
:) Daisies are wonderful! <3
- Patrizio B.
Do u like playing Mario then? :P
- Sasper C.
Do you specifically grow certain flowers to eat? Also, what flowers do you recommend growing if someone is looking to add them...
- Julia W.
They grow on their own in my garden, I use them because they are looking beautiful. :) <3
- Patrizio B.
My mouth is watering.....
- Kimberly H.
Love this, what do you use to make your noodles with. Like to try it and start making my own, God bless.
- Milton K.
I made this with tahini sauce!
- Milena J.
Thank you, my dears! <3 This tool, Milton: http://www.rawhealthandhappiness.com/Tools/GEFU-Spirelli-Spiral-Cutter Awesome, Mile...
- Patrizio B.
Thanks so much brother, will have to invest in one soon . finally got me a mandolin cutter, so I'm almost ready to start my jou...
- Milton K.
Good tools make a lot of fun in the kitchen! Good luck on your journey and be blessed, Milton!
- Patrizio B.
Just bought one of these yesterday and use dit to make a zucchini and squash salad loved it
- Vickey W.
That's great! Makes me happy! Yummy! <3 :)
- Patrizio B.
i love ur display of food!amazing!keep it up
- Fatima K.
Thank you, Kanizze! ☀️❤️
- Patrizio B.
Nice presentation
- Chandan S.
As a Health Weight Management Coach I love this post. I am going to share it with my clients. Feel free to friend me. I always...
- Lizbeth S.
Thank you, Lizbeth! There is much more on: http://www.rawhealthandhappiness.com ;)
- Patrizio B.
one can eat daisies? How do they taste?
- Frances M.
Indescribable :)
- Patrizio B.
Are they good?
- Frances M.
I like them!
- Patrizio B.