Banana - tomato - cabbage - rolls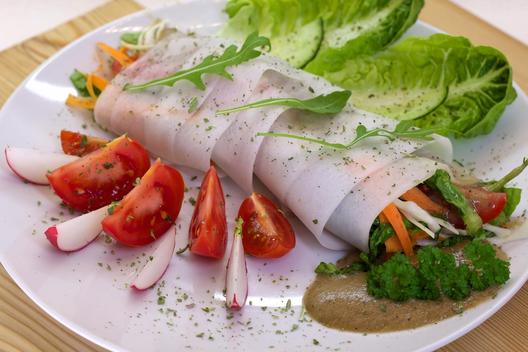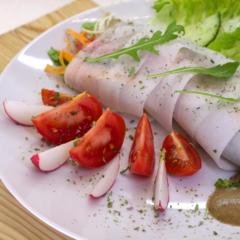 This evening I had rolls made of thin stripes of daikon radish, filled with pieces of carrots, tomatoes, white cabbage, arugula, cucumber, lettuce, radishes and a creme of nine bananas, one apple and a small hand full of fresh parsley.
If not stated otherwise then the amount of ingredients is for one meal, but this could still mean more than one serving of the pictured dish.
All fruits and vegetables have to be ripe. That's of the uttermost importance, only this way are they tasting yummy, are having all their essential nutrients in them and can be digested optimally by our body.
Preparation
Rolls
Slice daikon radish, zucchini or eggplant with your Mandoline - Slicer in thin and long slices and place them overlapping on a plate
Place the cut other ingredients on a small stripe and put some of the sauce on them
raise the radish/zucchini stripes with a big knife, fold it over the ingredient - stripe and form a roll
Cream
Put all ingredients for the cream in a high speed blender, like the Blendtec
Put some softer fruits in the blender first (like bananas) so it has something to "chew" on
Cut harder and large fruits into pieces and put them into the blender with some soft fruits
Blend ingredients at high speed
Blend longer if you want your cream warmer
Fruits and veggies directory
Checkout the fruits and veggie directory to see how to ripen your produce or how to know when stuff is ripe.
Im guna try this today!!
- Katie L.
Go for it, Katie! :) <3
- Patrizio B.
You food is visually breathtaking.
- Violet B.
Thanks a lot, Violet! ❤️
- Patrizio B.
Do you use the Paderno Spiralizer or another one?
- Carol S.
oh that blog is awesome.
- Marilyn H.
No spirulizer for this dish, Carol. But if I use one I use the one from Lurch. http://www.rawhealthandhappiness.com/Tools/Spiru...
- Patrizio B.
Thank you, Marilyn! ;) :*
- Patrizio B.
Thank you so much - I appreciate your help.
- Carol S.
Wow!!!! Got to try this =O
- Delilah J.
Om, nom, nom, nom! <3
- Patrizio B.
will try this as well this weekend.
- Carol S.
beautiful,,,,,,,,,,,,,,
- Kristy R.
Thank you, Kristy! <3
- Patrizio B.
Thank you, Flummerie! <3
- Patrizio B.
How did you eat it?
- Deena M.
Fork and knife. :)
- Patrizio B.
That is beautiful Patrizio Bekerle..you have quite the talent for beautiful & inventive dishes..Love it..<3
- Kathy H.
Thank you for your kind words, Kathy! <3
- Patrizio B.
That looks and sounds amazing!! Thanks for sharing it.
- Lisa W.
Sounds delish
- Harriett Z.
Thank you, my dears! <3
- Patrizio B.
Simpler and light
- Cathrina Y.