Zucchini - "Lasagna" with pineapple - fig - sauce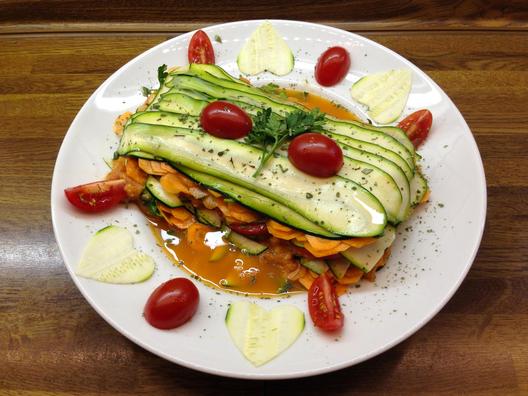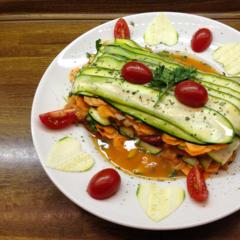 Today I had a delicious "Lasagna" with layers of zucchini, shredded celeriac, fresh parsley, slices of tomatoes and carrots and a sweet sauce of one pineapple, ten dried figs, two stalks of celery and two sweet red peppers.
If not stated otherwise then the amount of ingredients is for one meal, but this could still mean more than one serving of the pictured dish.
All fruits and vegetables have to be ripe. That's of the uttermost importance, only this way are they tasting yummy, are having all their essential nutrients in them and can be digested optimally by our body.
Preparation
"Rice" or finely chopped veggies
Cut celeriac or pumpkin in small pieces
Put the pieces in a blender with speed control or "chop" setting (like the Blendtec)
Chop fruits or veggies to "rice"
Best do this before making the sauce, so you don't have the sauce in your blender ;)
Sauce
Put all ingredients for the sauce in a high speed blender, like the Blendtec
Put some softer fruits in the blender first so it has something to "chew" on
Maybe cut harder produce into pieces and put them into the blender with some soft stuff
Avocado, nuts or seeds are optional
Blend ingredients at high speed
"Lasagna"
Slice your ingredients for the layers (like daikon radish, zucchini, lettuce or tomatoes) with your Mandoline - Slicer or a sharp knife
Use your high speed blender, like the Blendtec, to prepare a creamy sauce with the rest of the ingredients (like the fruits and red peppers)
spread a layer of ingredients in a rectangular bowl or deep dish
spread an other layer
spread a layer of sauce
add a layer of an other ingredient
do this until the bowl is full
pull the bowl over on a plate
Fruits and veggies directory
Checkout the fruits and veggie directory to see how to ripen your produce or how to know when stuff is ripe.
nicht so schön wie Deine, dafür auch saulecker :D vielen Dank für die Inspiration !! <3 https://www.facebook.com/photo.php?fb...
- Christina M.
jaaaaa, großartig! <3
- Patrizio B.
you're so talented that you should give classes on how to prepare vegan dishes
- Andreia R.
thank you for your kind words, Andreia! <3
- Patrizio B.
Más preocupación a sus problemas de préstamos, préstamos de consolidación de deuda , la financiación o la inversión. Uno y sólo...
- Chelsy L.
I want you to come make food for me, everything looks so good
- Lindsey K.
i love the way you display your masterpieces! especially the hearts :)
- Emily C.
thank you, my dears! <3 I merely love fruits and veggies! <3 ;)
- Patrizio B.
are you a chef? 10/10 presentation, look at those lil hearts, aww :3
- Kayleigh V.
haha, thank you Kayleigh! I'm a mere fruit lover! :)
- Patrizio B.
My presentation is so terrible it's just as well I'm the only vegan lol!
- Kayleigh V.
I love presentation also I just can't make my food as pretty as that
- Lindsey K.
<3 raw dishes always makes me smile. especially with your beautiful designs!
- Monika F.
I give a damn on presentation, I just get over-inspired by the lovely fruits and veggies. :D
- Patrizio B.
Oh my, this is beautiful! Well done Patrizio Bekerle. I am with Kayleigh V Barber, I am the only vegan in my household so prese...
- Kellie L.
I'm the only one in my household too (because I love alone) :) So I make photos. :D
- Patrizio B.
this looks so fancy!
- Angel C.
I'm thinking of going rawas more natural..I believe we are set up to graze and eat naturally without processing..if you can pic...
- Jai P.
you are right, Jane!
- Patrizio B.