Celeriac at kiwi - date - cream with a beet-ing heart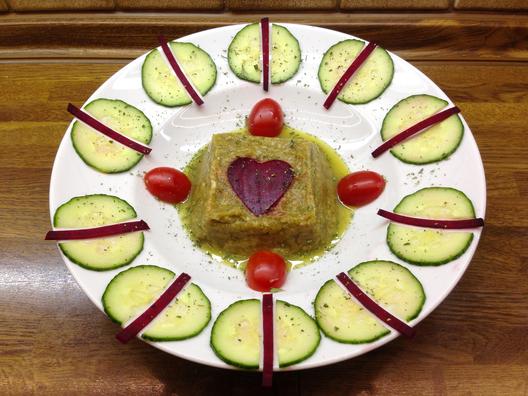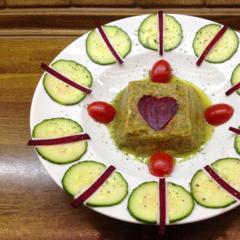 Today I made myself finely chopped celeriac at a delicious cream of elven kiwifruits, nine dates and two stalks of celery, with a beet heart, slices of cucumber and some small tomatoes. <3
If not stated otherwise then the amount of ingredients is for one meal, but this could still mean more than one serving of the pictured dish.
All fruits and vegetables have to be ripe. That's of the uttermost importance, only this way are they tasting yummy, are having all their essential nutrients in them and can be digested optimally by our body.
Preparation
"Rice" or finely chopped veggies
Cut celeriac or pumpkin in small pieces
Put the pieces in a blender with speed control or "chop" setting (like the Blendtec)
Chop fruits or veggies to "rice"
Best do this before making the sauce, so you don't have the sauce in your blender ;)
Preparation with food ring mold
Place food ring mold on a plate or spatula
Chop ingredients as shown in dish "rice"
Put the chopped ingredients in a bowl and mix them with the sauce until you get a thick dough
Fill the dough with other ingredients in the food ring mold
Smooth down everything in the mold
Use gentle force with the tamper to get the dish out of the ring
Sauce
Put all ingredients for the sauce in a high speed blender, like the Blendtec
Put some softer fruits in the blender first so it has something to "chew" on
Maybe cut harder produce into pieces and put them into the blender with some soft stuff
Avocado, nuts or seeds are optional
Blend ingredients at high speed
Fruits and veggies directory
Checkout the fruits and veggie directory to see how to ripen your produce or how to know when stuff is ripe.
Celeriac at kiwi - date - cream with a beet-ing heart
Rating:

0

/5 (

0

votes cast)
Thank you for rating!
You have already rated this page, you can only rate it once!
Your rating has been changed, thanks for rating!
Log in or create a user account to rate this page.

patrizio, danke ..... für deine gütes essen! ich habe knoblauch und zwiebeh noch darin getan.....
- Alireza B.
DO U MAKE FOOD AND DELIVER. ..HAHAHAH. U ALWAYS MAKE SUCH NICE MEALS...
- Diana L.
Thank you, Diana. Ich make it and deliver it to my tummy usually. :D
- Patrizio B.
I BET U DO...JUST WANT U TO KNOW U DO A GREAT JOB... :)
- Diana L.
Thanks a lot! <3 :)
- Patrizio B.
Another little masterpiece!
- 'Cherie' C.
Ha, kiwis <3 love it!
- Monika F.
<3 <3 <3 thank you, my dears!
- Patrizio B.
Beautiful presentation :)
- Christine d.
Thank you, Christine!
- Patrizio B.
:) I have my Blentec on an altar.
- Laura S.
yeaaaaah! :D
- Patrizio B.
beautiful pat :)
- Rosy D.
bravo,looks great!:-)
- Ana F.
thanks a lot, Ana!
- Patrizio B.
Wow, looks to good to eat!!!
- Chantel M.