Eggplant - lasagna with blood orange - date - sauce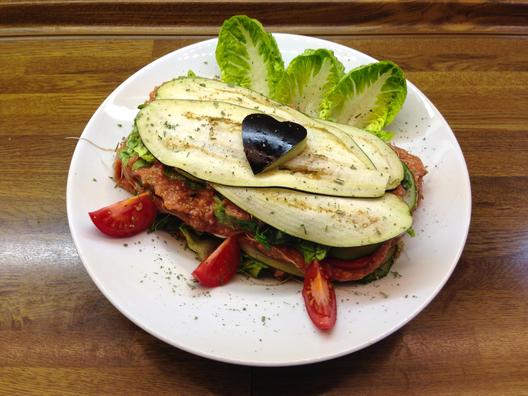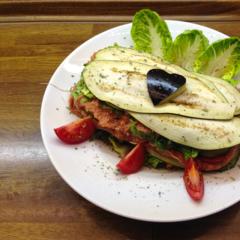 Today I made myself a yummy "lasagna" with thin layers of eggplant, baby lettuce, cucumber, sprouted mungbeans, tomatoes, shredded cauliflower and a simple sauce of six small blood oranges, five medjoul dates and three stalks of celery.
If not stated otherwise then the amount of ingredients is for one meal, but this could still mean more than one serving of the pictured dish.
All fruits and vegetables have to be ripe. That's of the uttermost importance, only this way are they tasting yummy, are having all their essential nutrients in them and can be digested optimally by our body.
Preparation
"Rice" or finely chopped veggies
Cut celeriac or pumpkin in small pieces
Put the pieces in a blender with speed control or "chop" setting (like the Blendtec)
Chop fruits or veggies to "rice"
Best do this before making the sauce, so you don't have the sauce in your blender ;)
Sauce
Put all ingredients for the sauce in a high speed blender, like the Blendtec
Put some softer fruits in the blender first so it has something to "chew" on
Maybe cut harder produce into pieces and put them into the blender with some soft stuff
Avocado, nuts or seeds are optional
Blend ingredients at high speed
"Lasagna"
Slice your ingredients for the layers (like daikon radish, zucchini, lettuce or tomatoes) with your Mandoline - Slicer or a sharp knife
Use your high speed blender, like the Blendtec, to prepare a creamy sauce with the rest of the ingredients (like the fruits and red peppers)
spread a layer of ingredients in a rectangular bowl or deep dish
spread an other layer
spread a layer of sauce
add a layer of an other ingredient
do this until the bowl is full
pull the bowl over on a plate
Fruits and veggies directory
Checkout the fruits and veggie directory to see how to ripen your produce or how to know when stuff is ripe.
:-) ♥ ♥ ♥ Danke Patrizio immer noch sehr apetitlich , zum reinbeissen knackig
- Pat M.
Love the heart and looking forward to try your recipe! Thank you :)
- Pierre D.
Thank you, Pierre! ;)
- Patrizio B.
oooooh, I overate on dehydrated mushroom once... baaaaad choice of action :D
- Patrizio B.
Is it healthy to eat raw egg fruit? I always hesitated to inlcude raw night-shadow plants into the diet.
- Gertrud S.
try it and decide for yourself ;) tomatoes are night-shadow plants too :)
- Patrizio B.
Yeah, but what about potatoes?
- Gertrud S.
Try them and see how they taste. You will not like them. :)
- Patrizio B.
OK, taste and decide :-) Thanks!
- Gertrud S.
Avez-vous besoin d'un prêt d'argent de particuliers à particuliers sans l'aide d'une banque? Je suis particulier disposant un c...
- Felicite A.
r the slice of eggplant cooked?
- Sara G.
no, they were uncoocked.
- Patrizio B.
love food.sat nam
- Antonis A.
thank you, Mira! <3
- Patrizio B.
Patrizio......I need to live with you for a while & learn your amazing food skills!!! lol!! :)
- Nikkita G.
Just develop a huge love for fruits and veggies and everything moves into place on it's own! <3
- Patrizio B.
I can't imagine eating raw eggplant. I eat a lot of salads and I love to throw a wide variety of fruit and vegetables in there,...
- Ramsey R.
It's easy, if you don't like the taste don't eat it... I developed a liking for it now and then. :) <3
- Patrizio B.
Nice adds. I am appreciating your attention to your food.
- Tome O.
I'm in love with fruits and veggies! <3
- Patrizio B.
You are a food artist!
- Laura S.
I'm just a mere fruits & veggies - lover! <3
- Patrizio B.