Radish - noodles with mango - sauce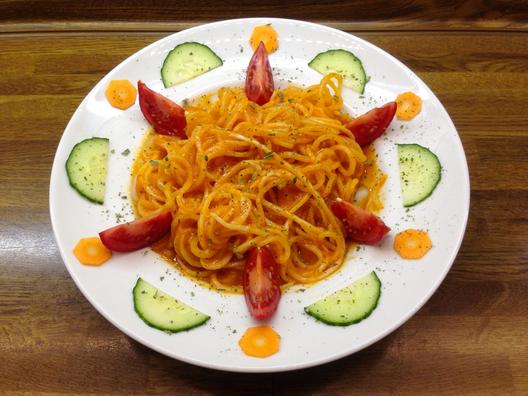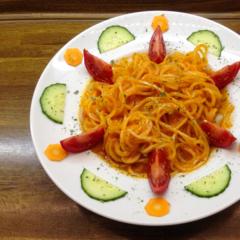 This evening I had daikon radish noodles with some tomato pieces and some slices of cucumber and carrot and a tasty and simple sauce of three mangoes, three sweet red peppers and two stalks of celery.
If not stated otherwise then the amount of ingredients is for one meal, but this could still mean more than one serving of the pictured dish.
All fruits and vegetables have to be ripe. That's of the uttermost importance, only this way are they tasting yummy, are having all their essential nutrients in them and can be digested optimally by our body.
Preparation
Noodles
Get a Lurch Spirali or an other spirulizer.
Use the blade for normal or thick noodles
Put up the summer or winter squash, daikon radish or similar and cut out the noodles
If you use hard fruits or veggies, like winter squash, you may turn the fruit by hand, not by crank
Alternatively you can also use the GEFU Spirelli Spiral Cutter.
Sauce
Put all ingredients for the sauce in a high speed blender, like the Blendtec
Put some softer fruits in the blender first so it has something to "chew" on
Maybe cut harder produce into pieces and put them into the blender with some soft stuff
Avocado, nuts or seeds are optional
Blend ingredients at high speed
Fruits and veggies directory
Checkout the fruits and veggie directory to see how to ripen your produce or how to know when stuff is ripe.
thank you, Nicole <3
- Patrizio B.
YOUR INNER WORLD MUST BE SO BEAUTIFUL........;.SAT NAM
- Antonis A.
Just dancing fruits and veggies. :) ❤️☀️
- Patrizio B.
Did you make the radish noodles? Those sound awesome. I've been buying kelp noodles: http://www.vitacost.com/sea-tangle-noodle-...
- Kiki P.
Never got any kelp in my hands yet.
- Patrizio B.
Always soo beautiful! You should open a restaurant Patrizio :-)!
- Tijana C.
Thank you Tijana! Maybe when the world is ready for it. ;)
- Patrizio B.
When the world is ready for it. Perhaps you will open it in Belchertown, Massachusetts. :-)
- Sarah C.
The US has a big head-start on raw cuisine, we in Austria have much work to do.
- Patrizio B.
Well I'm sure you'll help get them there. :-)
- Sarah C.
Trying to inspire. :)
- Patrizio B.
this looks amazing
- Shari C.
I'm trying to transition to a raw diet..i just feel like I'm never prepared enough or don't understand where to begin really. I...
- Shari C.
Every start is hard!
- Patrizio B.
that looks fantastic!!
- Sherriden S.
you really have an artists eye for colour and balance hope it tasted as good as it looked : )
- Shairose J.
Thanks a lot, Shairose! It did! <3
- Patrizio B.
Wow .. Patrizio, I was just having a look on your own fb page .. your food looks AMAZING! Are you a professional? Not only deli...
- Sherriden S.
Thank you, Sherriden. I'm just a fruits and veggie lover. :) ❤️
- Patrizio B.
Your plates are always so beautiful.
- Chili P.
marry me! haha j/k
- Stephanie B.
I have a daikon radish. did not think to spiralize it!!! YOU DA MAN!!! I'm doing this tomorrow
- Jes L.
I've never made daikon radish noodles, but love carrot or beet noodles. I will try this over the summer!
- Heather H.
I need to get a spirulizer to make your yummy dishes! Mahalo for the recipe :)
- Paula B.
I love mine. <3 http://www.rawhealthandhappiness.com/Tools/Spirulizer
- Patrizio B.