Kiwi - date - stuffed peppers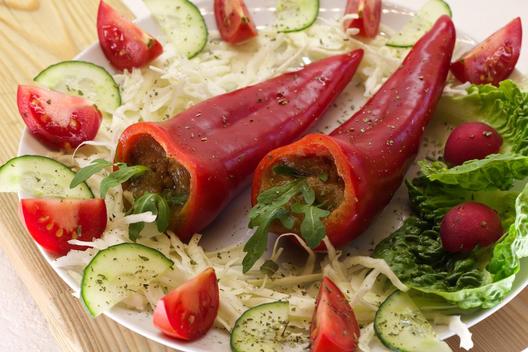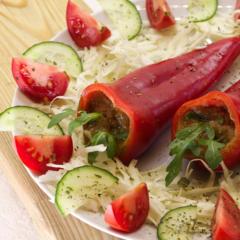 Tonight I had stuffed sweet red peppers with a cream of 13 kiwi fruits, eight dates and one sweet red pepper, bedded on white cabbage, baby lettuce, arugula, cucumber, radishes and tomatoes.
If not stated otherwise then the amount of ingredients is for one meal, but this could still mean more than one serving of the pictured dish.
All fruits and vegetables have to be ripe. That's of the uttermost importance, only this way are they tasting yummy, are having all their essential nutrients in them and can be digested optimally by our body.
Preparation
Cream
Put all ingredients for the cream in a high speed blender, like the Blendtec
Put some softer fruits in the blender first (like bananas) so it has something to "chew" on
Cut harder and large fruits into pieces and put them into the blender with some soft fruits
Blend ingredients at high speed
Blend longer if you want your cream warmer
Fruits and veggies directory
Checkout the fruits and veggie directory to see how to ripen your produce or how to know when stuff is ripe.
Yum , don't that just make your mouth water for good wholesome real food, love it God bless. One day soon my brother, one day s...
- Milton K.
I'm happy to keep you inspired, Milton! ;) <3
- Patrizio B.
Yes, indeed! :)
- Patrizio B.
Thanks brother, you're the best and yes I'm very inspired. May God continue to bless you. Please keep them posts coming, God bl...
- Milton K.
I was blessed by him or her already that I got on this path of life! ☀️❤️
- Patrizio B.
How Long Has the Journey Been For You, mine Has been On And Off For 10-20 years. But not giving up. Soon it will be a part of m...
- Milton K.
I'm raw vegan for almost three years now... Before that I was vegetarian for five years...
- Patrizio B.
I've Been A VEGETARIAN For Over 20 years And Started Being vegan During that time then started Eating raw.back And forth Now FO...
- Milton K.
Yes, switching back and forth is hard for the body. :/
- Patrizio B.
And you just can't find anything that you can eat without reading all the ingredients first and that is time consuming all by i...
- Milton K.
You are perfectly right, Milton!
- Patrizio B.
Beautiful☆☆☆☆☆
- Starr E.
Thank you, Starr Elliott! <3
- Patrizio B.
That's beautiful!
- Sandra R.
Thank you, Sandra! :*
- Patrizio B.
your an inspiration
- Vaijayanti M.
I bow to you, Vaijayanti Mala.
- Patrizio B.
and i to you patrizio
- Vaijayanti M.
WELL DONE MY FRIEND.SAT NAM
- Antonis A.
Thank you, Antonis! ☀️
- Raw H.
thanks for ur postings,so many ideas,i don't have to think of what to eat :)
- Cheryl B.
Thank you for your kind words, Cheryl! <3 It's easy to decide what to eat... That what's ripe and available! :)
- Patrizio B.
and I eat by the sales of the week too for cost down lol have fun :)
- Cheryl B.
You are very wise! ;)
- Patrizio B.
How long have you been at this Patrizio? I wanna hear your story! I know what to eat and not eat but I struggle so here lately...
- Olga L.
I'm writing about it here a bit, Olga: http://www.rawhealthandhappiness.com/About-Me
- Patrizio B.
Thank you. You have been very inspiring to me and I'm sure I'm not alone! Your pictures really are beautiful and mouth wateri...
- Olga L.
omg that sauce. getting my things together to begin my RAW journey!! just been doing 80%
- Marilyn H.
Thank you for your kind words, Olga! <3
- Patrizio B.
Get yourself fruited up, Marilyn! <3 :)
- Patrizio B.
Om, nom, nom! <3
- Patrizio B.
Hot dish! :) <3 :)
- Jordan B.
Looks very healthy!
- Sophia D.
And very tasty!
- Antje v.
Oooooh yes! <3 :)
- Patrizio B.
Bardana? Piantaggine? Si prova?
- Grace U.
Oh cool I would love to try
- Cathrina Y.
It looks authentic!!!and yummy.. As its always:-):-):-)
- Swati K.
Thank you, my dear Swati! <3
- Patrizio B.