Banana - peppers - stuffed zucchini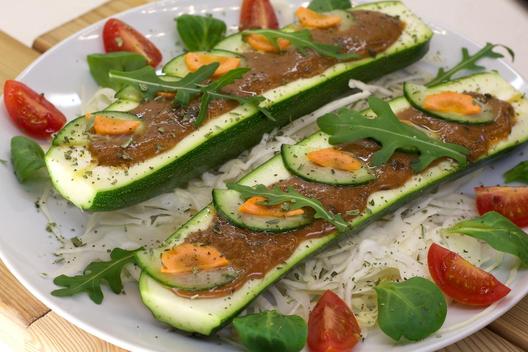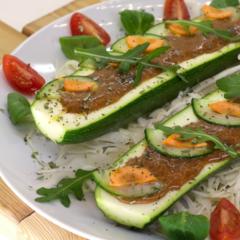 Today I had zucchini (I just scraped out the inner part with a melon baller) stuffed with a creme of eight bananas, one pear and one sweet red pepper, together with cucumber-, carrot- and tomato - slices, lamb's lettuce, white cabbage and arugula.

If not stated otherwise then the amount of ingredients is for one meal, but this could still mean more than one serving of the pictured dish.
All fruits and vegetables have to be ripe. That's of the uttermost importance, only this way are they tasting yummy, are having all their essential nutrients in them and can be digested optimally by our body.
Preparation
Cream
Put all ingredients for the cream in a high speed blender, like the Blendtec
Put some softer fruits in the blender first (like bananas) so it has something to "chew" on
Cut harder and large fruits into pieces and put them into the blender with some soft fruits
Blend ingredients at high speed
Blend longer if you want your cream warmer
Fruits and veggies directory
Checkout the fruits and veggie directory to see how to ripen your produce or how to know when stuff is ripe.
thank you for your green inspiration :)
- Linda H.
I'm happy you could get inspired! <3
- Patrizio B.
Looks delish!!
- Kimberly H.
Thank you, Kimberly! <3
- Patrizio B.
Yum for both dishes.
- CJ C.
Thank you, C.j. Creighton! <3
- Patrizio B.
Klasse! Patrizio, yummy!
- Sirimongkon N.
Great you like it, Sirimongkon! <3
- Patrizio B.
https://www.facebook.com/groups/262563037246756/
- Afua A.
YOU ARE UN ARTIST MY FRIEND.SAT NAM
- Antonis A.
I bow to you, Antonis! ✨☀️
- Raw H.
Excellent wow
- Marilyn H.
Thank you, Marilyn! <3
- Patrizio B.
www.Lifefood.tv
- Jordan B.
Hehe, I'm not an easy kind of person. ;)
- Patrizio B.
I can reciprocate the effort
- Jes L.
Didn't expect that now did ya?
- Jes L.
Too bad that avocados don't make me an easier person. :D
- Patrizio B.
Good luck with your criteria
- Jes L.
Dude I cant believe your cooking all this stuff!!! Are you sure your not purchasing these photos from google or a local restur...
- Princess V.
Last time I checked these fruits and veggies sat on my kitchen counter... :) But then they vanished on (not so) miraculous ways...
- Patrizio B.
Genau das ist was mir sehr schmeckt :-P This is exactly what I like so much... tasty :-P
- Johann S.
Great you like it, Johann! <3
- Patrizio B.
I staffed my with vegetarian meat, chopped walnuts and topped with tomato sauce or cheese than bake.
- Veronika A.
Awesome, Veronika! <3
- Patrizio B.
Zucchini is one of my favorites! Looks good! You do an awesome job at plating your food! :D
- Melissa P.
Thank you, Melissa! <3 :*
- Patrizio B.
Bananas r white... Pear also is a white portion... Then how ur smoothy turn brown? Whats d secret ingredient?
- Swati K.