Chicory - arugula - cabbage - boats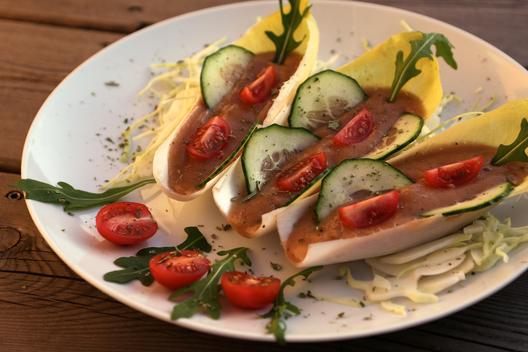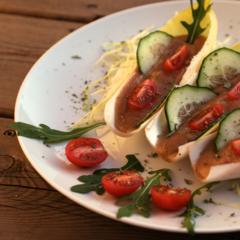 Today I used chicory leaves as "boats" for cut white cabbage, cucumber, tomatoes. arugula and a cream of eight bananas and one pear.
If not stated otherwise then the amount of ingredients is for one meal, but this could still mean more than one serving of the pictured dish.
All fruits and vegetables have to be ripe. That's of the uttermost importance, only this way are they tasting yummy, are having all their essential nutrients in them and can be digested optimally by our body.
Preparation
Cream
Put all ingredients for the cream in a high speed blender, like the Blendtec
Put some softer fruits in the blender first (like bananas) so it has something to "chew" on
Cut harder and large fruits into pieces and put them into the blender with some soft fruits
Blend ingredients at high speed
Blend longer if you want your cream warmer
Fruits and veggies directory
Checkout the fruits and veggie directory to see how to ripen your produce or how to know when stuff is ripe.
I think you need to come here and make these for me! ;)
- Jennifer B.
Hehe, thank you Jennifer! ;) <3
- Patrizio B.
Thank you, Sue! <3
- Patrizio B.
Mr gourmet hit it again! Beautiful! One question what do you recommend to sweeten raw vegan salad dressing? What do u think ab...
- Crystal A.
Thank you, Crystal! <3 As long as you are sweeten with whole fruits it's great! ;) I use dates for example...
- Patrizio B.
Just beautiful - you are so talented!
- Carol S.
Thank you for your kind words, Carol ! ❤️☀️
- Patrizio B.
Are you a chef?
- Carol S.
No, I'm not. :)
- Patrizio B.
I just love fruits and veggies. ;)
- Patrizio B.
www.CirrhosisCure.com
- Jordan B.
Chicory (or 'witlof', as we call it) is one of my favorite vegetables, and it goes so well with fruit and nuts, mmmm :-)
- Eerainuh A.
what a great idea !
- Pam R.
Thank you, Sopan. ☀️
- Patrizio B.