Pineapple - carrot - cucumber - rolls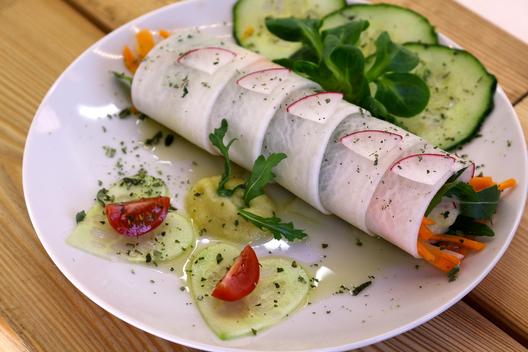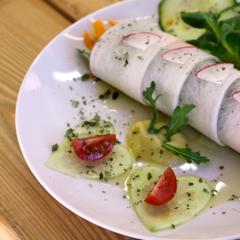 Just now I had rolls of daikon - radish filled with pieces of a carrot, cucumber, radishes, arugula, lamb's lettuce, some cocktail - tomatoes and a sauce of one pineapple, seven dates and three stalks of celery.
If not stated otherwise then the amount of ingredients is for one meal, but this could still mean more than one serving of the pictured dish.
All fruits and vegetables have to be ripe. That's of the uttermost importance, only this way are they tasting yummy, are having all their essential nutrients in them and can be digested optimally by our body.
Preparation
Sauce
Put all ingredients for the sauce in a high speed blender, like the Blendtec
Put some softer fruits in the blender first so it has something to "chew" on
Maybe cut harder produce into pieces and put them into the blender with some soft stuff
Avocado, nuts or seeds are optional
Blend ingredients at high speed
Rolls
Slice daikon radish, zucchini or eggplant with your Mandoline - Slicer in thin and long slices and place them overlapping on a plate
Place the cut other ingredients on a small stripe and put some of the sauce on them
raise the radish/zucchini stripes with a big knife, fold it over the ingredient - stripe and form a roll
Fruits and veggies directory
Checkout the fruits and veggie directory to see how to ripen your produce or how to know when stuff is ripe.
Schön und lecker!
- Sirimongkon N.
Lieben Dank, Sirimongkon! <3
- Patrizio B.
gern geschehen,Patrizio.Du hast supper gemacht!
- Sirimongkon N.
Pretty :) love the hearts!
- Kristy B.
Thank you, Kristy! ;) <3
- Patrizio B.
Beautiful!! Will you marry me?
- Amy H.
<3 I'm exhausting :)
- Patrizio B.
looks fabulous!
- Andrea S.
That looks amazing
- Carly D.
Thank you, my dears! <3
- Patrizio B.
omg my mouth waters at your amazing creations yum! looks so good!
- Frances F.
Thank you Frances! ☀️❤️
- Patrizio B.
Lovely heart cucumbers you Mr are giving me ideas :-)
- Domi N.
Om man this looks and sounds amazing
- Shelly D.
Thank you, my dears! ☀️❤️
- Patrizio B.
I gotta share this food art! :)
- Roberta B.
Looks almost too good to eat but that wouldnt stop me
- Julie A.
Thank you for your kind words! <3
- Patrizio B.
That looks so beautiful, I love the attention you pay to presentation :-)
- Eerainuh A.
I have to cherish my love! (fruits and veggies) :) <3
- Patrizio B.
:-D Outside and inside your tummy :-D
- Eerainuh A.
Thank you, Marianne! <3
- Patrizio B.
Beautiful plate of fresh and delicious fare
- Carol B.
thank you, Carol! <3
- Patrizio B.
But looks nice as it is always....
- Swati K.
Thank you, Swati! <3 http://www.rawhealthandhappiness.com/Fruits-and-Veggies/Daikon-radish
- Patrizio B.
Yess... Its mooli in my lngage...
- Swati K.