Green kiwi - cucumber - parsley soup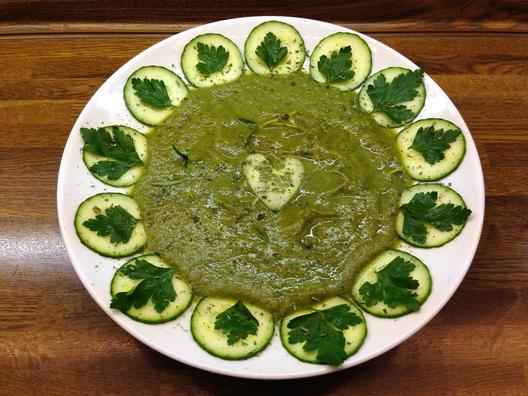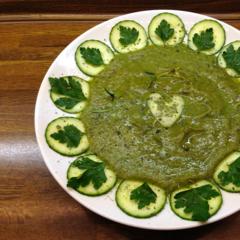 Today I made a delicious green soup of 15 kiwifruits, five dates, half a large cucumber and a hand full of fresh parsley. I had some sprouted mungo beans added to it.
If not stated otherwise then the amount of ingredients is for one meal, but this could still mean more than one serving of the pictured dish.
All fruits and vegetables have to be ripe. That's of the uttermost importance, only this way are they tasting yummy, are having all their essential nutrients in them and can be digested optimally by our body.
Preparation
Soup
Put all ingredients for the soup in a high speed blender, like the Blendtec
Put some softer fruits in the blender first so it has something to "chew" on
Maybe cut harder produce into pieces and put them into the blender with some soft stuff
Avocado, nuts or seeds are optional
Blend ingredients at high speed
Blend longer if you want your soup warmer
Fruits and veggies directory
Checkout the fruits and veggie directory to see how to ripen your produce or how to know when stuff is ripe.
soup made of kiwis - nice idea
- Rasik S.
a yummy one! <3 :)
- Patrizio B.
You're my hero! Love your postings. I'm not 100% raw, but you are motivational.
- Dean D.
That's all what I wanted to achieve! Getting people motivated! Thanks a lot, Dean! I bow to you!
- Patrizio B.
okkk pat dont know about that,thats taste like t looks?
- Rosy D.
That depends on the eye of the beholder. <3
- Patrizio B.
a very pretty dish!
- Lori B.
thank you, Lori! <3
- Patrizio B.
I always admire your beautiful plating, Patrizio, not to mention everything you post looks delicious. :)
- Kanishka G.
<3 u know what I'm gonna say... kiiiiiiiiiiiiwiiiiiiiiis <3
- Monika F.
Thank you, Kanishka! <3
- Patrizio B.
Hell yeah, Monika! :D
- Patrizio B.
How did this taste? there must be some really subtle cross tastes.
- Genghis K.
I don't know how to describe taste. :)
- Patrizio B.
Interesting. As a cook it might be a healty practice to explore ?
- Genghis K.
Exploration is always the best way to learn. ☀️
- Patrizio B.
Proof that food can be a work of art.....I am seeing it every day now with Patrizio Bekerle .
- Ron P.
Thank you, Ron! <3
- Patrizio B.