Zucchini - rolls with garden greens and flowers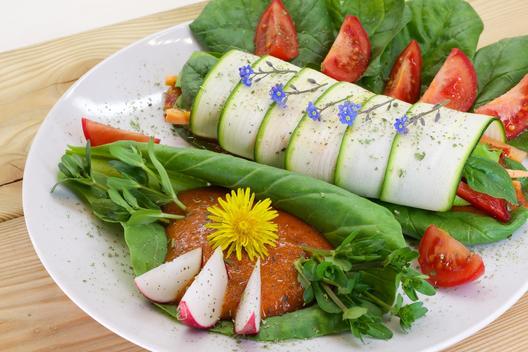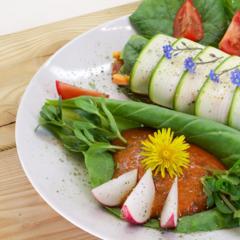 Today I made myself rolls of zucchini with a dandelion and forget-me-nots and stuffed with greens from my garden (spinach, lamb's lettuce, romaine lettuce and collard leaves), sweet red pepper sticks, carrots, tomatoes, radishes and a creme of eight bananas, two sweet red peppers and three stalks of celery.
If not stated otherwise then the amount of ingredients is for one meal, but this could still mean more than one serving of the pictured dish.
All fruits and vegetables have to be ripe. That's of the uttermost importance, only this way are they tasting yummy, are having all their essential nutrients in them and can be digested optimally by our body.
Preparation
Rolls
Slice daikon radish, zucchini or eggplant with your Mandoline - Slicer in thin and long slices and place them overlapping on a plate
Place the cut other ingredients on a small stripe and put some of the sauce on them
raise the radish/zucchini stripes with a big knife, fold it over the ingredient - stripe and form a roll
Cream
Put all ingredients for the cream in a high speed blender, like the Blendtec
Put some softer fruits in the blender first (like bananas) so it has something to "chew" on
Cut harder and large fruits into pieces and put them into the blender with some soft fruits
Blend ingredients at high speed
Blend longer if you want your cream warmer
Fruits and veggies directory
Checkout the fruits and veggie directory to see how to ripen your produce or how to know when stuff is ripe.
Hugs from Northern Ontario Canada! :)xox
- Isabelle G.
A big hug from Graz / Austria! <3
- Patrizio B.
perfect .... and this little blue flowers... lovely... !! <3 :)
- Vanessa V.
Thank you, my dears! <3
- Patrizio B.
Your meals always look so delicious and inspiring!
- Carie B.
Looks so lovely that it's almost a shame it eat it :) I also like that "my garden" part; I wish I had a garden to grow my own v...
- Anni K.
Thank you, Carie! <3
- Patrizio B.
Thank you, Anni! Yes, and I learn a lot of new things every season! This season I have a greenhouse, it's wonderful! <3
- Patrizio B.
This is breathtaking! Do you have your own restaurant?
- Meghan E.
WORK OF ART!!!
- Alice U.
Thanks a lot for all your kind words, my dears! <3 No, not yet, Meghan. ;)
- Patrizio B.
You will though, right? If you open one in my area, I'll be sure to be there :-)
- Meghan E.
Hehe, I hug you, Meghan! :*
- Patrizio B.
Yay! ((HUGS))
- Meghan E.
they are tasting great! ;)
- Patrizio B.
That looks awesome
- Di T.
Thank you, Di Thomas!
- Patrizio B.
Don't know whether to eat it or frame it!
- Alice U.
Hihi, thank you, Alice ;) <3
- Patrizio B.
Thank you, Zeest!
- Patrizio B.
You are a wonderful cook, you are!
- Zeest S.
Fascinating, Fun, Fabulous recipies every time.
- Zeest S.
Why do you have to make it look so ...oh well, I can't find any other word... sexy?!
- Joi S.
thank you, my dear ones! <3 sexy? :) I had a lot of interpretations of that kind for that one: http://www.rawhealthandhappiness...
- Patrizio B.
indeed.sat nam
- Antonis A.
This looks lovely, perfect for Easter!
- DonnaMarie I.
Hihi, thank you, DonnaMarie! <3
- Patrizio B.
Welcome! :-) <3
- DonnaMarie I.
Thanks for the post. I found the recipe.
- Vivian M.
Good stuff! As usual! <3 <3 <3
- Jordan B.
Is lamb's lettuce vegan?
- Sasper C.
Blimey Patrizio - you're a true culinary artists! Every meal is performance art! :p
- Ariane M.
Beautiful as always. I'm enjoying some dandelion tea with my children today. Do you eat the whole head of the dandelion? My co...
- Dawn M.
If you don't eat lamb with it, yes, Sasper. ;)
- Patrizio B.
Thanks a lot, my dear ones! ❤️☀️
- Patrizio B.
Yes, I eat the whole head, Dawn.
- Patrizio B.
Ooh I have forget me nots in the garden, growing rampant (I didn't plant them, like everything practically in my garden they've...
- Sid D.
Does salad make u rampant Patrizio?
- Sasper C.
Are you a chef?
- Linda B.
Don't chefs cook things?
- Sasper C.
Today I was grazing in my garden. I found a wild lamb's lettuce patch. Almost rampant. :)
- Patrizio B.
no chef, who needs chefs :)
- Patrizio B.
Me. Salads dont fill me up :P
- Sasper C.
me neither, that's why there are a lot of fruits in it :D
- Patrizio B.
Unless you have something positive to say about a post, please move on to the next one. Thanks.
- Hoodeet V.
What's been unpositive?
- Sasper C.
Food or art?! Almost too pretty to eat.
- Samantha P.
The only fruit that fills me up is a banana :)
- Sasper C.
Wow, beautiful again.
- Lucy S.
Makes my salads look like something a 3yr old has bunged together.
- Lucy S.
This looks way to healthy to be on here lol but does look tasty
- Sara A.
So pretty ( pretty yummy!!)
- Euphemia F.
Thanks you for all your kind words, my dears! <3
- Patrizio B.
Patrizio Bekerle, are you on pinterest? I'd love to follow you if you are putting your food on there. I've seen you popping up...
- Lybi M.
So I used my brain and decided to type your name into pinterest, instead of waiting for you to tell me you were on there. And I...
- Lybi M.
Hehe, yes, here I am. :) :* http://www.pinterest.com/PatrizioBekerle/raw-food-recipes/
- Patrizio B.
So I just tasted some forget me nots from the garden, unless they are different to yours they had absolutely no flavour?
- Sid D.
They look beautiful though Sid :)
- Lu S.
I would love to see someone like you on Masterchef, Patrizio. Show the world that beautiful, delicious food doesn't have to con...
- Samantha P.
Awesome sauce! Love the bitters! Holding a dinner party...think this will be on the menu!
- Grace U.
Great if you was able to get some inspiration! <3
- Patrizio B.
Looks amazing!
- Malgorzata H.
Thank you, Malgorzata!
- Patrizio B.
wau delicious seve
- Frameworks B.
Great................!!!
- Swati K.
thank you, Swati! <3
- Patrizio B.
U are phenomenal !
- Ujwwaal P.
I bow to you, Ujwwaal!
- Patrizio B.
That looks beautiful patrizio!:)
- Lea-Anne R.
Ok I did NOT know you could eat dandelions!! Looks pretty!! :)
- Denise A.
Dandelions are lovely, Denise! The young light green leaves aren't so bitter and make a wonderful salad! Have some strained soy...
- Kerstin K.
:D learn something new every day!! :D might sound like a crazy question but, If you are picking them from outside do you need t...
- Denise A.
yes, you should definitely wash them and collect them only where no dogs may use them as their bathroom *ahem* and never from t...
- Kerstin K.
Brilliant thanks!! So gonna try that sometime! <3
- Denise A.
I pick them & wash them for the tortoise at work!
- Lea-Anne R.
guinea pigs and hens go bonkers for them, too. Oh and so do rabbits :D
- Kerstin K.
Thank you, my dears! <3 ;)
- Patrizio B.