Pineapple - peppers - grape - stuffed radish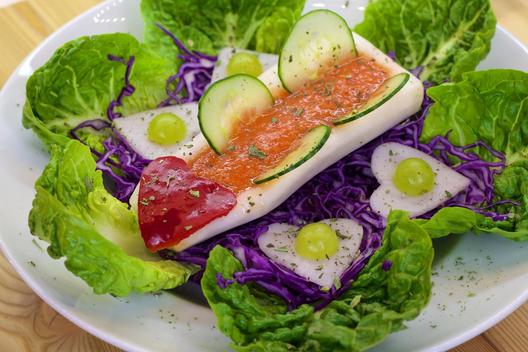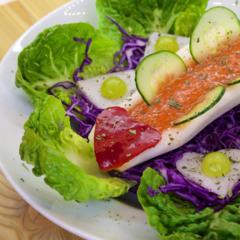 Today I had daikon radish boats (I just scraped out the inner part with a melon baller) filled with a sauce of one pineapple, about two thirds of a pound of white grapes and one sweet red pepper, bedded on baby - lettuce and purple cabbage with some cucumber - slices.
If not stated otherwise then the amount of ingredients is for one meal, but this could still mean more than one serving of the pictured dish.
All fruits and vegetables have to be ripe. That's of the uttermost importance, only this way are they tasting yummy, are having all their essential nutrients in them and can be digested optimally by our body.
Preparation
Sauce
Put all ingredients for the sauce in a high speed blender, like the Blendtec
Put some softer fruits in the blender first so it has something to "chew" on
Maybe cut harder produce into pieces and put them into the blender with some soft stuff
Avocado, nuts or seeds are optional
Blend ingredients at high speed
Fruits and veggies directory
Checkout the fruits and veggie directory to see how to ripen your produce or how to know when stuff is ripe.
a masterpiece
- Govindas G.
Thank you, Govindas! <3
- Patrizio B.
.. I can only imagine how appreciative one can be to savour each bite. art | work.
- Anthony V.
Thank you, Anthony! I take a loooot of bites. ;)
- Patrizio B.
yum :) you sharing? lol
- Kim M.
One would need to be very fast. :)
- Patrizio B.
Everything you make looks like a art piece so beautiful once again I'm so impressed by your art food. Healthy and looks delicious☆
- Starr E.
Thanks a lot for you kind words, Starr Elliott! For the glory of fruits and veggies! <3
- Patrizio B.
Sir, you are KILLING IT!!! GORGEOUS!!!
- Violet B.
Yummmmmnessss :D
- Delilah J.
Thank you, my dears! <3 :*
- Patrizio B.
Great!!! Love it!!!
- Marisa F.
Thank you, Marisa! <3 <3 <3
- Patrizio B.
Love your creation
- Marisa F.
Just an expression of my love for fruits and veggies! :) <3
- Patrizio B.
Always such gorgeous food from you!
- Michael R.
Thank you, my dears! <3 :)
- Patrizio B.
It looks like a work of art! Soooooo in love. :D
- Francesca L.
Hihi, thank you Francesca! <3
- Patrizio B.
i love your food pics
- Asma M.
Thank you, Asma! :*
- Patrizio B.
This is so beautiful but you must get hungry while creating the masterpieces.
- Angela L.
Thank you, Angela! You can bet! :D Can hardly wait. :)
- Patrizio B.
You mean you havent eaten yet????
- Angela L.
You did it months ago, and just posted it *face palm*
- Angela L.
Oh, no. It's long gone... :) But even waiting during the process of creating, placing, lighting, shooting, examining, repeating...
- Patrizio B.
Nah, I create, shoot, eat and post on the same day. ;)
- Patrizio B.
Sono molto deluso
- Angela L.
Thought I was getting it blow by blow, you are a food illusionist
- Angela L.
Isn't everything just an illusion? A imagination and calculation of our brain interpreting our human sensors. ☀️
- Patrizio B.
No, I just photograph what I have, yours to interpret but basically just normal food eaten instantly
- Angela L.
Unless we digress into the Cartesian theory....
- Angela L.
You can bet I eat mine instantly! :D
- Patrizio B.
You are a genius!!
- Maggie R.
Just hungry, Maggie! ;) :*
- Patrizio B.
I love your recipes, just not too fond of the sweet sauces! Do you ever make them savory?
- Milena J.
Thank you, Milena! <3 (My sister's name is also Milena.) The sweetness of fruits is my main fuel, so I have my sauces fruity sw...
- Patrizio B.
This looks jus great wow
- Diana C.
Thank you, Diana! <3
- Patrizio B.
Thanks Patrizio Bekerle! Now I understand why you make everything sweet. What could I use to make this savory? Any idea? Sweets...
- Milena J.
You could use avocado, lemon and maybe some herbs to make a great non-sweet sauce.
- Patrizio B.
Thanks! Been using avocados, tahini...just wanted something new! Thanks, anyway!
- Milena J.
Love the color in this!
- Chantel M.
Thank you, Chantel! It's realy a great blue! <3
- Patrizio B.