Mango - cabbage - basil - salad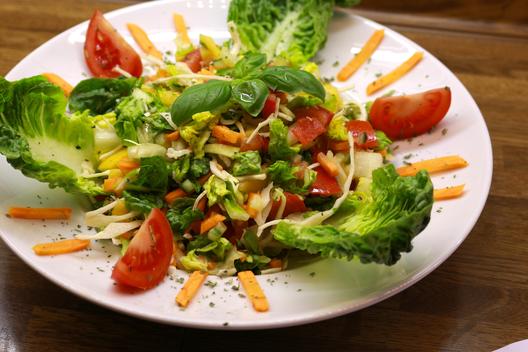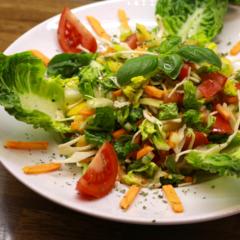 Just now I had a huge bowl of salad with two cut mangoes, two diced carrots, half a diced cucumber, some thinly sliced cabbage, a few cut tomatoes, fresh basil, some baby - lettuce and the juice of one orange and one lemon. This yielded two of these plates.
If not stated otherwise then the amount of ingredients is for one meal, but this could still mean more than one serving of the pictured dish.
All fruits and vegetables have to be ripe. That's of the uttermost importance, only this way are they tasting yummy, are having all their essential nutrients in them and can be digested optimally by our body.
Preparation
Dicing of fruits or veggies
Put the straight blade on your Mandoline - Slicer
Activate the vertical blades and set an offset halve the length of the vertical blades
Cut fruit (like zucchini or cucumber) or veggie once
Turn fruit or veggie by 90 degrees
Cut again to get dices
Turn and cut
Repeat
Stop before you cut your fingers :)
Salad
Wash the lettuce leaves, use your spinner to dry them and put them in a bowl.
Dice your fruits and veggies and also put them in the bowl. A flexible cutting mat is very useful to do so!
Most of the time juicy fruits are enough as a dressing. If you want no other dressing you could just squeeze some lemons or an orange on top of your salad.
Fruits and veggies directory
Checkout the fruits and veggie directory to see how to ripen your produce or how to know when stuff is ripe.
I LOVE YOU MY RAW VEGAN FRIEND YOU ARE THE BEST OF THE BEST GOD BLESS YOU .SAT NAM
- Antonis A.
this looks really good
- Barbara H.
Thank you, Barbara! <3
- Patrizio B.
Be Still My Heart
- Ray C.
Your presentation is always epic!
- Aleece F.
thanks a lot, Aleece! <3
- Patrizio B.
oh yum, makes me miss my freshly snipped basil ! Soon I'll be growing that again. :)
- Pam R.
I miss my Herbs grown on my balcony! And that salad is gorgeous!
- Laura L.
We need more herbs! <3
- Patrizio B.
Now this is visually more attractive
- Carol B.
Thanks, Carol ;) <3
- Patrizio B.
Yummmmmmy! :-)
- Chantel M.
Thanks, Chantel! <3
- Patrizio B.
Its yum yum... Yummy type salad looking... But i hv doubt about test as its do not contain any seasoning..salt n paper...to tes...
- Swati K.
Thank you, Swati. That's why the quality of the fruits and veggies are crucial, like it's meant to be. ;) <3
- Patrizio B.