Celeriac at kiwi - fig - cream with hearts of cucumber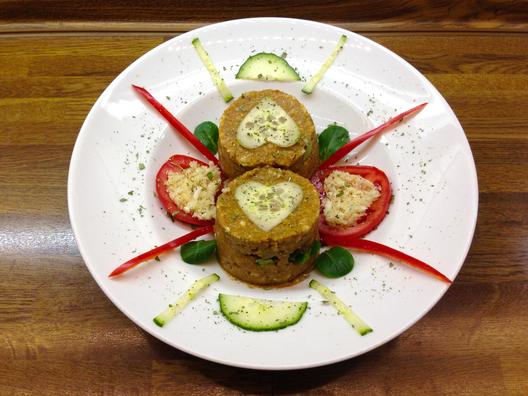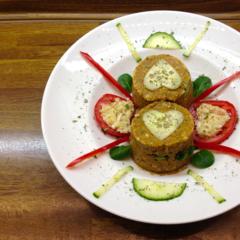 Today I made myself finely chopped celeriac at a sweet cream of almost two pounds of kiwifruits, twelve dried figs and three sweet red peppers, with a layer of tomato - slices and lamb's lettuce and hearts made of cucumber. <3
If not stated otherwise then the amount of ingredients is for one meal, but this could still mean more than one serving of the pictured dish.
All fruits and vegetables have to be ripe. That's of the uttermost importance, only this way are they tasting yummy, are having all their essential nutrients in them and can be digested optimally by our body.
Preparation
Sauce
Put all ingredients for the sauce in a high speed blender, like the Blendtec
Put some softer fruits in the blender first so it has something to "chew" on
Maybe cut harder produce into pieces and put them into the blender with some soft stuff
Avocado, nuts or seeds are optional
Blend ingredients at high speed
Preparation with food ring mold
Place food ring mold on a plate or spatula
Chop ingredients as shown in dish "rice"
Put the chopped ingredients in a bowl and mix them with the sauce until you get a thick dough
Fill the dough with other ingredients in the food ring mold
Smooth down everything in the mold
Use gentle force with the tamper to get the dish out of the ring
Fruits and veggies directory
Checkout the fruits and veggie directory to see how to ripen your produce or how to know when stuff is ripe.
Celeriac at kiwi - fig - cream with hearts of cucumber
Rating:

0

/5 (

0

votes cast)
Thank you for rating!
You have already rated this page, you can only rate it once!
Your rating has been changed, thanks for rating!
Log in or create a user account to rate this page.

I see happy faces and spiders LOL
- Marie R.
thank you, Dean! ;)
- Patrizio B.
When I read figs, kiwi, peppers and tomatoes together....my mouth started watering! I HAVE to try this!
- Shellie K.
That's a good sign! :)
- Patrizio B.
sure looks good!
- Vic M.
I cant do such beautiful things, Im too lazy I guess ;) I just eat raw, grab some stuff and eat. I would like to learn ur skill...
- Robert W.
I'm exactly like you, lazy. :) but I can't take a photo of stuff I throw together lazily. :D
- Patrizio B.
Patrizio- what kind of tool do you use to get thin "lasagna" or raw veggie-"bread" slices of eggplant--celeriac-- etc? During...
- Kathy Z.
http://www.rawhealthandhappiness.com/Tools/Mandoline-Slicer
- Patrizio B.
Ah-yes--I was so curious--visited your web early this morning ---and you do the coolest thing--you list and show the line-up of...
- Kathy Z.
Thanks a lot for your kind words, Kathy! That's exactly what I'm trying to do, getting as much impressions as possible about th...
- Patrizio B.
you are the best of the best....lots of raw vegan love from cyprus.sat nam
- Antonis A.
thank you, my dear Antonis!
- Patrizio B.
YOU ARE UN ANGEL I THANK YOU.SAT NAM
- Antonis A.
That's beautiful and looks delicious!
- Tania E.
Very pretty foody goodness
- Emma P.
Thank you my dears!
- Patrizio B.
Wow! You're an artist.
- Daisy W.
thank you, Daisy! <3
- Patrizio B.
So pretty and sound delicious too
- Lindsey K.
WOW !!! Are you single ??? :P
- Mikaela L.
Thank you, Lindsey!
- Patrizio B.
Yes, I am, Mikaela. ;)
- Patrizio B.
Awesome... :)
- Mikaela L.
AND, he lives in AUSTRIA... Where my best, bestest friend lives... Its fate... >>> Und, er spricht Deutsch !!! Its too good to...
- Mikaela L.
lol, sounds like fruit party! :D
- Patrizio B.
really ??? that wasnt an insult, was it Patrizio ??? :)
- Mikaela L.
how can fruits insult anyone? :)
- Patrizio B.
Oh good, just checking :P XXX
- Mikaela L.
I have no idea what this is but it looks amazing :)
- Shelby R.
I have no idea where this conversation has gone but it sounds awesome.
- Daisy W.
ARE YOU SINGLE????? LOL
- Caroline B.
I'm single, but I eat double. :D
- Patrizio B.
Hahaha~ I love other peoples' cooking!!! Mine is good as well but it is more fun eating others!
- Caroline B.
true! more inspiration! ;)
- Patrizio B.
Your food is so beautifully presented. :-)
- Julie M.
Thank you, Julie! ❤️☀️
- Patrizio B.
Can you ship this to Florida!!!!!!
- Chantel M.
Is teleporting invented yet? ❤️
- Patrizio B.
LOL ... I wish!!!!
- Chantel M.