Banana - apple - radish - rolls with cabbage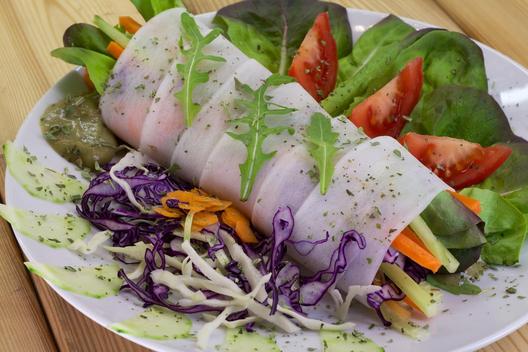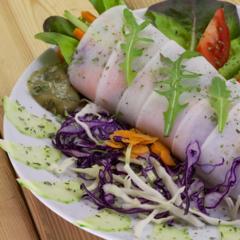 This evening I made myself rolls of daikon radish, filled with carrot- and cucumber sticks, purple and white cabbage, young lettuce leaves, tomatoes, arugula and a creme of seven bananas, one apple, six dates, one stalk of celery and a hand full of fresh parsley.

If not stated otherwise then the amount of ingredients is for one meal, but this could still mean more than one serving of the pictured dish.
All fruits and vegetables have to be ripe. That's of the uttermost importance, only this way are they tasting yummy, are having all their essential nutrients in them and can be digested optimally by our body.
Preparation
Rolls
Slice daikon radish, zucchini or eggplant with your Mandoline - Slicer in thin and long slices and place them overlapping on a plate
Place the cut other ingredients on a small stripe and put some of the sauce on them
raise the radish/zucchini stripes with a big knife, fold it over the ingredient - stripe and form a roll
Cream
Put all ingredients for the cream in a high speed blender, like the Blendtec
Put some softer fruits in the blender first (like bananas) so it has something to "chew" on
Cut harder and large fruits into pieces and put them into the blender with some soft fruits
Blend ingredients at high speed
Blend longer if you want your cream warmer
Fruits and veggies directory
Checkout the fruits and veggie directory to see how to ripen your produce or how to know when stuff is ripe.
Love it...love it...love it
- Yip J.
Makes me happy! <3
- Patrizio B.
Hi was wondering what is cream of seven bananas:
- Hostetler J.
seven bananas blended. :D
- Patrizio B.
Tasty! Yummy !
- Sirimongkon N.
(Zilver) lening tussen individuen ernstig bieden Lady en gentleman, bied ik lening van 5000 € tot 2.000.000 € aan iedereen kun...
- Albertus J.
Man , You have some talent, Your plates are always looking SO GOOD !!! :-)
- Glenn B.
Thank you for your kind words, Glenn! <3
- Patrizio B.
This looks amazing!!!!
- Jennifer K.
Thank you, my dears! <3
- Patrizio B.
Very nice :)
- Antonella C.
Ok Patrizio... where's the hearts..... last four posts, no hearts. I'm going to get real sad real soon. Don't you love us any...
- Grace U.
Your food always looks so AMAZING! :)
- Katie B.
I could just bite the screen it looks so good. The only thing I don't get is the cream of 7 bananas. Why so many?
- Harriett Z.
Oh, you are right, Grace! We need more hearts again! Thank you for the reminder! <3 ;)
- Patrizio B.
Thank you, Katie! <3
- Patrizio B.
Thank you, Harriett. <3 Why 7? Because I was hungry. :)
- Patrizio B.
So this wrap is supposed to be made with a radish? This must ba big radish? --looks like fish! ?? Looks pretty neat!
- Carol S.
It's a daikon radish! They are huge. ;)
- Patrizio B.
Thank you, Carol
- Patrizio B.