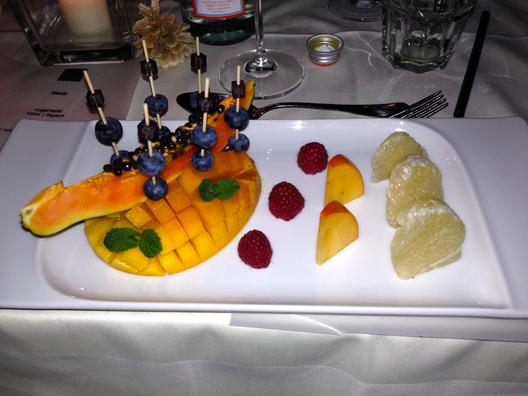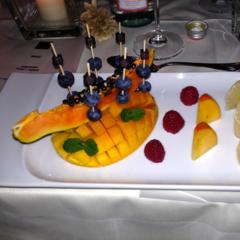 Fruit based meals in a "normal" restaurant? Absolutely possible, if you are giving them some time up ahead. Here is one course of my company's christmas celebration's meal at the "Eckstein" in Graz for me: mango, passion fruit, blackberries, raspberries and more.
If not stated otherwise then the amount of ingredients is for one meal, but this could still mean more than one serving of the pictured dish.
All fruits and vegetables have to be ripe. That's of the uttermost importance, only this way are they tasting yummy, are having all their essential nutrients in them and can be digested optimally by our body.
Fruits and veggies directory
Checkout the fruits and veggie directory to see how to ripen your produce or how to know when stuff is ripe.
So happy for you Patrizio. This should be normal. It. will be one day!!!erry Christmas and a wonderful happy Time! Much love fr...
- Stefanie C.
Thank you my dear ones! The only drawback was I only had little to eat. ;) and the heavy cigarette smoke which was very hard on...
- Patrizio B.
have a great time your self! Much love to you! ❤️☀️
- Patrizio B.
This is something I can totally understand. I can stand cigarette smoke at all, so grateful that in Germany and Italy its not a...
- Stefanie C.
Yes, I hope we get to test point also!
- Patrizio B.
I wanted to say I CANNOT stand cig smoke at all of course. It annoys me when I pay at a gas station in Austria and it is full o...
- Stefanie C.
And that was all for you only?
- Marie R.
I usually have no problem either.
- Deborah S.
You live in Graz? I'm in Klagenfurt. Last Friday I was in Vienna for a company Xmas party and I was quite impressed with the we...
- Ramsey R.
Vegan goes mainstream! ❤️☀️
- Patrizio B.
Can I have some??
- Laura B.
Long gone. :)
- Patrizio B.
Did you call ahead and request this? What else did you have. Great idea.
- Wendy T.
Yes, I did, they were very cooperative. :) @else: click on the link and you will see. :) (I forgot to take a picture of one cou...
- Patrizio B.
wow! you are having a blast it seems with food. Its really very cool to share in your discoveries and experiments and you seem...
- Tome O.
Thank you, Tome! One can have a lot of fun with fruits. :)
- Patrizio B.
nice food, presentation over kill
- Ray W.