Blueberry nectarine pineapple soup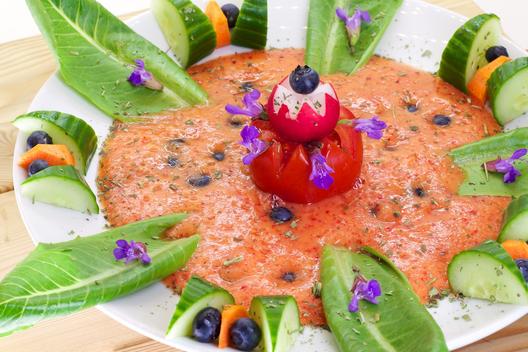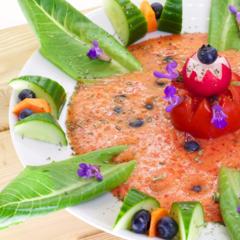 Today I made myself a thick soup of one pineapple, two pounds of nectarines and the juice of one lemon. Additionally there was a small box of blueberries In the soup. Together with it I had romaine lettuce, a tomato, radishes, some pieces of carrot and cucumber and sage blossoms.
If not stated otherwise then the amount of ingredients is for one meal, but this could still mean more than one serving of the pictured dish.
All fruits and vegetables have to be ripe. That's of the uttermost importance, only this way are they tasting yummy, are having all their essential nutrients in them and can be digested optimally by our body.
Preparation
Soup
Put all ingredients for the soup in a high speed blender, like the Blendtec
Put some softer fruits in the blender first so it has something to "chew" on
Maybe cut harder produce into pieces and put them into the blender with some soft stuff
Avocado, nuts or seeds are optional
Blend ingredients at high speed
Blend longer if you want your soup warmer
Fruits and veggies directory
Checkout the fruits and veggie directory to see how to ripen your produce or how to know when stuff is ripe.
Are you able to buy organic stone fruits where you are? Last week when I went to Sprouts they had a lot of fresh fruit but non...
- Barbara N.
Haven't found any yet, but "soon" I will have my own ripe and ready in my garden. <3
- Patrizio B.
Everything you want and need for good health, love it God bless.
- Milton K.
High vibration food! <3 :)
- Patrizio B.
I wonder how it tests? :-)
- Victo B.
It tests positive for fruits. :)
- Patrizio B.
For ur presentation... 100 out of 100 marks!!! Good luck patryzio :-)
- Swati K.
So pretty and nutritious for the body. Now thats how you're suppose to eat. God bless.
- Milton K.
Thank you, my dear Milton. Be blessed!
- Patrizio B.
Mmmm so pretty :p looks delicious!
- Darlene C.
Thank you, Darlene. :)
- Patrizio B.
https://www.facebook.com/Perfect4Cooking
- Sonia B.
Thank you, my dears! <3
- Patrizio B.
Don't you ever feel so hungry that you just throw something together quickly that looks a mess? Go on, post some photos of thos...
- Sid D.
When it has to be real quick I grab bananas and a cucumber. That's the real fast food! Oh yes, baby! <3
- Patrizio B.
That looks incredible
- Christine M.
Thank you, Christine!
- Patrizio B.
I "ve never made fruitsoups, but after seeing your pictures I should give it a try!
- Sophie S.
Go for it! :) <3
- Patrizio B.
Its very pretty!
- Vikki W.
Oh, Now That Is a dish that I would love to try .Looks amazing .may You always be blessed .God bless.
- Milton K.
Thank you, Vikki and Milton! <3
- Patrizio B.
And again you have outdone yourself. Wow absolutely beautiful. I will try it. Thanks for sharing.
- Myriam H.
Thank you, Myriam! :) :*
- Patrizio B.
Dear Patrizio Bekerle you are genius.Thank you for sharing with us.
- Rossietta G.
Too much glory, Rossietta! :) :*
- Patrizio B.
https://www.facebook.com/Chef.Aqeel page ☞ ☞ ☞ ☞ ☞ ☞ Like page ☞ ☞ ☞ ☞ ☞ ☞ Hello My Friends U R Like a Avery Recipe Then Like...
- Aqeel A.
Yesss, that's the spirit! :)
- Patrizio B.
super, j'adore, merci pour ces idées,
- Nathalie W.
Patrizio tu es marié!!!!!!un homme qui cuisine LE REVE!!!!
- Nathalie W.
lieber Patrizio ich kann mich wirklich nicht entscheiden was mir am besten von allem schmeckt, vor allem liebe ich die subtile...
- Annette C.
Ich danke dir, Annette! <3 :)
- Patrizio B.