Banana - stuffed zucchini on leafy greens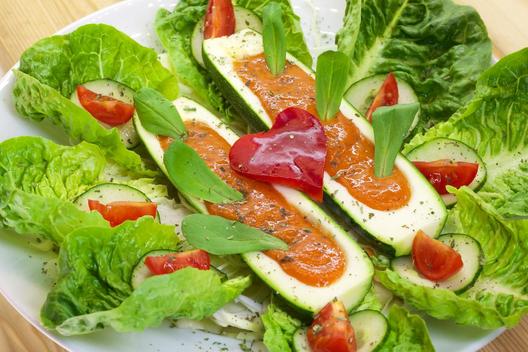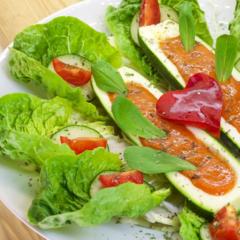 Today I had zucchini (I just scraped out the inner part with a melon baller), stuffed with a creme of eight bananas, two stalks of celery and two sweet red peppers on a bed of white cabbage and baby - lettuce with cucumber - slices, tomato - pieces and a bit of lamb's lettuce from my greenhouse.
If not stated otherwise then the amount of ingredients is for one meal, but this could still mean more than one serving of the pictured dish.
All fruits and vegetables have to be ripe. That's of the uttermost importance, only this way are they tasting yummy, are having all their essential nutrients in them and can be digested optimally by our body.
Preparation
Cream
Put all ingredients for the cream in a high speed blender, like the Blendtec
Put some softer fruits in the blender first (like bananas) so it has something to "chew" on
Cut harder and large fruits into pieces and put them into the blender with some soft fruits
Blend ingredients at high speed
Blend longer if you want your cream warmer
Fruits and veggies directory
Checkout the fruits and veggie directory to see how to ripen your produce or how to know when stuff is ripe.
U are very creative
- Yip J.
I'm just hungry :D :*
- Patrizio B.
I eat a lot too:)
- Yip J.
Im too greedy for veg
- Yip J.
I eat non stop too:)
- Yip J.
i can taste the freshness of the food in this photo
- Cassie K.
That's why we are loving fruits and veggies! <3
- Patrizio B.
Absolutely gorgeous.
- Barbara N.
Thank you, Barbara! <3
- Patrizio B.
I am so hungry, this looks so good.
- Michelle S.
Hihi, thank you, Michelle. ;)
- Patrizio B.
(Zilver) lening tussen individuen ernstig bieden Lady en gentleman, bied ik lening van 5000 € tot 2.000.000 € aan iedereen kun...
- Albertus J.
looks amazing thanks your an artist
- Sussanne P.
I bow to you, Susan! <3
- Patrizio B.
Looks yummy but I am not a banana person.
- Donnabell G.
I like them because they are so practical. :)
- Patrizio B.
Now that looks delicious, love it God bless.
- Milton K.
As always, thanks a lot, Milton! <3
- Patrizio B.
(Hän) taidetta Raw ... Kaikki Heart, kaikki Raw. Rakastan veneet! Täydellinen pikku Gondolit! Ok Petrizio .... me kaikki tinkin...
- Grace U.
Yeah....I said it...... LOL!
- Grace U.
Hahahaha, thank you Grace! :* <3 :D
- Patrizio B.
I can tell....you missed me! :P <3
- Grace U.
Of course I did! :) <3
- Patrizio B.
Thanks, Akeim ;)
- Patrizio B.
That looks really delicious..creme of eight bananas...wow. You should be giving cooking lessons.
- Myriam H.
Thank you, Myriam! <3 :*
- Patrizio B.
Can U please post something not healthy all these posts make me feel really unhealthy but I go off flavour not goodness lol
- Kristie W.
A little chocolate or cheesecake or tart please
- Kristie W.
too bad I can't serve with that :D <3
- Patrizio B.