Pineapple - cabbage - wraps with lamb's lettuce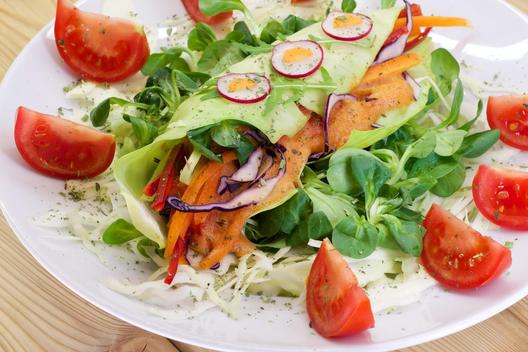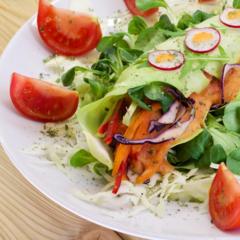 This evening I had wraps made of cabbage leaves, filled with peppers- and carrot - sticks, purple cabbage, lamb's lettuce, slices of radishes, pieces of tomatoes, arugula and a sauce of one pineapple, seven dates, one stalk of celery and one large sweet red pepper and bedded on white cabbage and lamb's lettuce.
If not stated otherwise then the amount of ingredients is for one meal, but this could still mean more than one serving of the pictured dish.
All fruits and vegetables have to be ripe. That's of the uttermost importance, only this way are they tasting yummy, are having all their essential nutrients in them and can be digested optimally by our body.
Preparation
Sauce
Put all ingredients for the sauce in a high speed blender, like the Blendtec
Put some softer fruits in the blender first so it has something to "chew" on
Maybe cut harder produce into pieces and put them into the blender with some soft stuff
Avocado, nuts or seeds are optional
Blend ingredients at high speed
Fruits and veggies directory
Checkout the fruits and veggie directory to see how to ripen your produce or how to know when stuff is ripe.
Jennifer Lee nom nom
- Wilma B.
My mouth is watering!
- Charlie M.
sounds delicious! What is an arugula?
- Eleanor F.
Thank you, Eleanor! Arugula are these greens: https://www.google.at/search?q=arugula&espv=2&source=lnms&tbm=isch&sa=X&ei=ynQ2U5...
- Patrizio B.
Looks good. Never seen it here in Spain. Can u recommend an organic seed supplier?
- Eleanor F.
Sadly I get them locally here. :/
- Patrizio B.
You always make the most beautiful plates
- Babette D.
Thank you, Babette! <3
- Patrizio B.
Life as a vegan also has it all.
- Zeest S.
...and much more! <3
- Patrizio B.
Endless pros vs just a few cons.
- Zeest S.
(Zilver) lening tussen individuen ernstig bieden Lady en gentleman, bied ik lening van 5000 € tot 2.000.000 € aan iedereen kun...
- Albertus J.
I often feel healed just looking at your wonderful creations, Patrizio. Thank heavens for you. :)
- Delilah J.
Thank you for your kind words, Delilah! <3
- Patrizio B.
Looks great, as always!
- Milena J.
Very nice, love to try it one day, God Bless .
- Milton K.
Where's the protein? Otherwise looks good.
- Connie M.
Thank you, my dears! <3 In the fruits and veggies it is, Connie! :)
- Patrizio B.
For diabetics? More protein in legumes than in veggies. That's what I look for.
- Connie M.
there is protein in-- asparagus, avocado, broccoli, beans, cauliflower, chia seeds, hemp seeds, kale, lentils, potato, spinach,...
- Elaine P.
I had veggie shepherd's pie an' a glass o' wine.
- Non S.
Then the problem with diabetics, at least me, is gout from eating vegetables high in purine, which is found in cauliflower,...
- Connie M.
you get gout from eating to much meat and i am a diabetic
- Elaine P.
And legumes, and I'm not.
- Non S.
i walk with pain every day and when i go to bed and get out of bed and if i knew some foods were going to make me sick thin i w...
- Elaine P.
Celery seed is good. Worked for me.
- Non S.
I am vegetarian
- Connie M.
Thanks, Olivia! <3
- Patrizio B.
You should be a paid chef.
- Carol S.
Hehe, thank you, Carol! ;)
- Patrizio B.
Everything you post is so beautiful. You should have a tv show!
- Roseanne H.
Yeah, yeah, yeah.... we all love you...where's the hearts Patrizio...where's the hearts?! 8P
- Grace U.
A juice made with lemon, ginger, mint and raw honey is very effective for gout. The frequency of gout can be reduced by balanci...
- Abhaya I.
Actually, a good idea to float to Food TV Network brother......you could be the first totally vegetarian cook on there! And thi...
- James O.
More hearts in the last days meals, Grace. ;)
- Patrizio B.
True, Abhaya Iyer
- Patrizio B.
hehe, thank you James. Can fruits already go mainstream? :)
- Patrizio B.
Worth a shot brother.......if Paula Deen can make it promoting dishes with vast amounts of cholesterol and carbs, healthy dishe...
- James O.
That sounds like an awesome name, James! :D <3 I love it! :D
- Patrizio B.
I dream of fruit orchards! :) <3
- Patrizio B.
Oh WOW it looks so yummy. Do you really eat like this every day? You always make your plate so appealing
- Debra W.
Thank you, Debra! If I post something, I do! :D
- Patrizio B.