Cabbage - carrot - pineapple - salad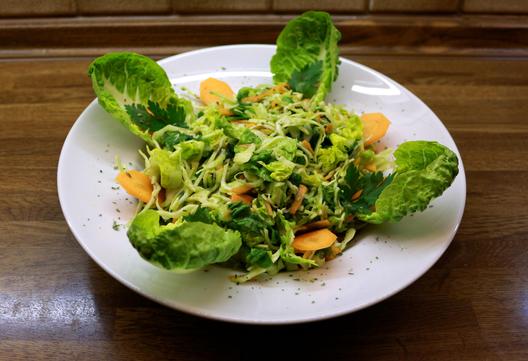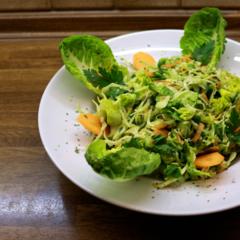 This evening I had a huge salad of half a white cabbage, a small box of lamb's lettuce, four carrots, some baby lettuce and a dressing of one pineapple, the juice of one lemon and a hand full of parsley. This yielded two of such huge plates.
If not stated otherwise then the amount of ingredients is for one meal, but this could still mean more than one serving of the pictured dish.
All fruits and vegetables have to be ripe. That's of the uttermost importance, only this way are they tasting yummy, are having all their essential nutrients in them and can be digested optimally by our body.
Preparation
Salad
Wash the lettuce leaves, use your spinner to dry them and put them in a bowl.
Dice your fruits and veggies and also put them in the bowl. A flexible cutting mat is very useful to do so!
Most of the time juicy fruits are enough as a dressing. If you want no other dressing you could just squeeze some lemons or an orange on top of your salad.
Fruits and veggies directory
Checkout the fruits and veggie directory to see how to ripen your produce or how to know when stuff is ripe.
You don't just make food, you make art my friend!
- Lon B.
Thank you for your kind words, Falkon Na! <3
- Patrizio B.
i need to be dis guy's neighbour,love the menu
- Sara G.
Más preocupación a sus problemas de préstamos, préstamos de consolidación de deuda , la financiación o la inversión. Uno y sólo...
- Chelsy L.
I think you should make your own cookbook....lol
- Julia N.
Maybe some day. :) <3
- Patrizio B.
That's great, fruits in the morning are an awesome start of the day! <3
- Patrizio B.
Wow this looks good!!!
- Lee-anne V.
Thank you, Lee-ann! <3
- Patrizio B.
I could eat 5 of those! Looks amaaaazing!!!
- Kali R.
go for it! <3 :)
- Patrizio B.
I've never heard of pineapple and lemon dressing, that sounds good.
- Marty G.
Up to 88% off on original Ray-Ban Sunglasses, Sunglasses for everyday discount prices on here, Classic, Styles and very well ma...
- Starr K.
Looks lovely..for color I would have added raspberries or strawberries
- Carol B.
Would have given it a nice touch!
- Patrizio B.